Published on 26/09/17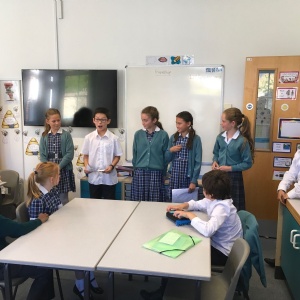 We believe it's never too early to start taking charge – with a sense of fairness and personal responsibility.
As well as belonging to a class and a year group, everyone is a member of one of our six School Houses. There was great excitement when our newcomers were each allocated to a house and attended their first house meeting.
It was not long before Year 6 pupils who decided to stand for election, as House or Sports Captain, were displaying their posters and preparing their speeches. We were very impressed by the number of candidates who stood and the high standard of their presentations. The final count of votes was very close in some cases, with the result that a few houses have two or even three captains who will share the position across the year.
One of the great benefits of our house system is that it creates a vertical structure within school, enabling pupils in different year groups to support one another. Over the years we have found that the benefits of such a system are best felt when house members have opportunities to work together. So, as soon as elections were over, we launched the House Art Event, which involved all members of the house contributing to a collaborative project. After a double period of creativity and industry, six 'works of art' emerged and these will be on display in the Hall at our Open Event.
I really enjoyed getting to know the Year 3s in my house."
I liked having a Year 6, a Year 5 and a Year 4 helping in my group."
Later in term ...
House members will meet later in term to begin working towards their house assemblies, which will pick up on the theme introduced for the Art Event. We are very proud that the house system is so popular in the Junior School, not least as the houses all celebrate significant anniversaries this year; Street, Kennett, Clark and Rose are 90 years old, and Cattley and Pollock are 70 years old.
House Art Event in pictures