Published on 07/06/18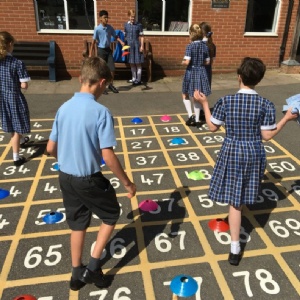 The biggest 'Collaboration Day' between the Junior School and Dame Bradbury's
Our courage with the weather paid off as all of the Foundation Year 6 and 7 pupils and students descended on Latham Road for our biggest 'Collaboration Day' yet. The sun pushed out from behind the clouds as the Year 6 short tennis tournament began. After a picnic lunch Year 7 students joined us for a language and team-building afternoon.
The aim of the day was for pupils to get to know each other before September and to meet some of their teachers. For those in Year 6 not going to the Senior School it was a lovely way of saying goodbye to their friends in a relaxed and fun atmosphere. It was also a chance for staff across the foundation to meet up and share the lead in the activities, whilst at the same time catching up on some details for the next academic year!
This event was a great success, providing the students with multiple opportunities to collaborate with various different peers from other parts of the foundation. Many thanks go to the pupils who clearly intended to make the best of these opportunities in true SPF style, and to the collaborative work of the staff both in organising the events and in ensuring that they ran smoothly. And to whoever was in charge of the weather, thank you to you too!