Published on 16/10/17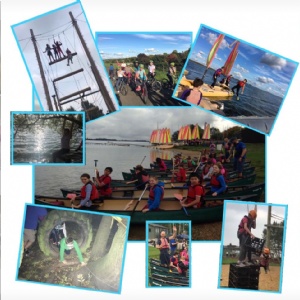 A blog by Year 7 student, Ioanna reflecting on her experiences on the recent residential trip to Grafham Water.
At the start of a new school year, and for many a new school, the Grafham Water residential was great fun and established many new friendships.
Three weeks into the new school year, the whole of Year 7 - 120 children - and a few brave teachers took a coach 25 miles to Grafham Water. Grafham Water is a biological site of special scientific interest and was the centre for our 3 days of activities. We stayed in dorms of between two to eight children. The food was great, at tea we all were spoiled for choice with how many puddings there were!
During the trip everyone rotated around four activities: sailing, canoeing, mountain biking and climbing, and we also had several evening activities.
In sailing we were taught how to set up the funboats, steer the boat and tighten the sail to maximise the speed. I loved sailing and I am sure several people will be going back there for a few more sailing lessons, although I hope for a bit more wind next time!
Mountain biking was my personal favourite. Not only was a 10 mile cycle ride great exercise it also was such an uplifting feeling to cycle up a steep hill and get to the top, especially when all your friends are cheering you on! However I can't really claim that I have cycled up any mountains - Cambridgeshire not being renowned for its mountainous scenery!
Even though the water was cold we still had a amazing time canoeing, or at least attempting to. After arriving at a small beach next to the lake Olly, my instructor, thought our group was a bit too dry. During a relay where we had to try and fit nine people in a boat Olly thought it would be funny to capsize us! We didn't though (find it funny).
In climbing we had one of three activities: Jacob's ladder, crate stacking and high ropes! I did crate stacking which was really fun, although apparently not for a few people who were afraid of heights! I could hear them screaming from on top of the crates. It was a great opportunity to overcome our fears though and several people did. Jacob's ladder also looked very fun as did high ropes, but again not if you were afraid of heights.
We had two evening activities: a talent show and the Grafham challenge. The Grafham challenge involved crawling in mud blindfolded whilst dodging obstacles, we relied on the people in front of us to help guide us around the obstacles! The talent show was also hilarious, who knew Mr Pompeo could juggle with bottles of sun cream and Mr Frost could do such a cool dance move!
Not only did we have great fun, we made new friends and learnt how to work together. Thank you, to the Grafham staff but especially Mr Frost and all the teachers who supported us.
Will any of you be brave enough to come back with us in Year 9?