Published on 28/09/17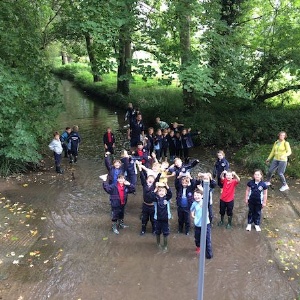 What a difference a fortnight makes! Having seen off the storm Aileen, whose appearance halted our planned trip on the 13th, once again we packed up and readied ourselves for our field study at (and in ) The River Granta, Hildersham.
At times we basked in sunlight and conditions were ideal for Year 4 as they spent the day exploring the wonders of this local river, ……….immersing ourselves in the 'theory' that Year 4 had been learning about back at school.
Groups rotated in set tasks which were designed to further develop the children's understanding of rivers. Conducting tree surveys, looking at the profile of the river bank and taking measurements, discovering the ox-bow lake as well as some sweeping meanders and getting to grips with the wonderful world of silt was all part of their day of learning.
The children enjoyed a picnic lunch and made origami boats which they sailed or sunk down a shallow stretch of the river to the bridge and ford which marked the finish line.
We were pleased to hear of the diminishing population of American crayfish (non-native crayfish that damages our local waters) and enjoyed finding evidence of a local otter population, no doubt doing the stealing work of devouring the American crayfish!
A very successful day, full of learning and memories, in a beautiful and unspoilt setting.