Published on 17/10/17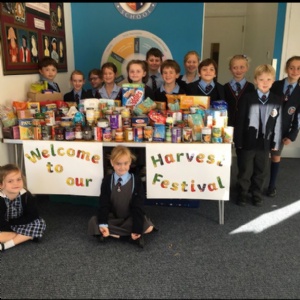 Collaboration and social responsibility were both to the fore for our Harvest Assembly, with Year 3 leading the way and doing a great job of collecting the vast amount of food that was brought in by the children to donate to the local food bank.
The assembly was led by Year 3 and Year 6, with various different historical traditions explained. The assembly happened to coincide with Year 6's visit to Audley End to spend the day as "servants" in 1881 and so the children were appropriately dressed for the day, and for the assembly!
Mrs Bootman and a small team of pupils also treated us to a creative display based on the work of artist Paul Klee, with the work being produced before our very eyes to the strain of that well-known favourite, "cabbages and greens, broccoli and beans".
The Uttlesford Food Bank, who had led an assembly earlier in the week, were thrilled with the veritable mountain of dried goods that were brought in, so many thanks to all those who contributed so generously.