For us, excellence in teaching always comes first and we only use digital tools where we see potential to transform learning.
From collaborating across subjects in new, innovative ways to enhancing how we extend and support our learners – we are using technology to unlock exciting new ways to learn.
Our digital tools
Below are just a few examples of how we use technology to enhance learning.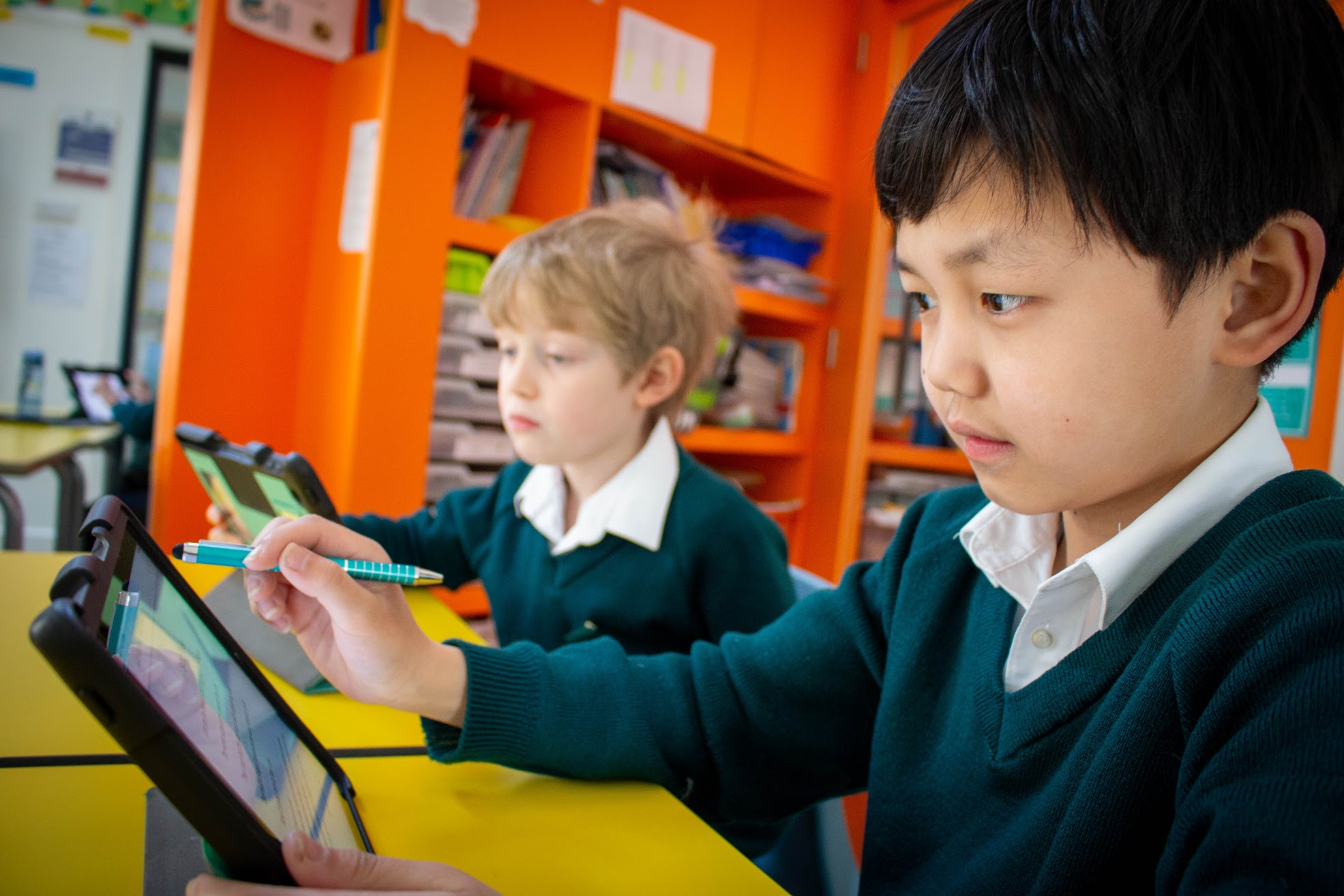 IPADS AND APPLE TECHNOLOGIES
We were one of the UK's first Apple Distinguished Schools and proudly remain part of this programme today. We first introduced iPads for our students back in 2012 but have not rested on our laurels. We now have 1:1 deployment from Year 6 all the way through to Year 13, with a 2:1 shared approach for Year 5 and below. They have become a virtual satchel, providing students with seamless access to resources and support – whenever and wherever they need it.
Students are at the centre of our curriculum and iPads, combined with Apple TVs in classrooms allow them to share, edit and communicate during class in exciting ways. So, instead of sitting and absorbing teacher-led material – learning is now a more collaborative, engaging process.

Apple Pencils are used by teachers to annotate, expand and provide detailed feedback on student work in between lessons. Each student receives enhanced support and therefore learning extends way beyond the classroom. Teachers use Apple School products to help support students and manage the classroom. Apple Classroom is a great way for teachers to share content and demonstrate work, as well as controlling the class devices.
CODING AND INNOVATION
As part of our various curriculums, we have a number of exciting coding and innovative technologies available to our students.

Students will use a variety of hardware including Raspberry Pi's, Macs, PCs and BBC Micro:bit machines.

We use a range of languages and equipment that will challenge our students and develop their coding and computational skills.
Apps
Apps at the Stephen Perse Foundation are used not only for learning, but also wellbeing and enrichment. Only certain apps are available to our students to maintain a safe and focused digital environment, those available change as our digital landscape evolves.
We use Google Workspace for our core apps throughout the Foundation. With the use of Google Classroom, students are able to access resources, tasks and support all in one place. Homework is set here and classes can be run remotely through Google Meet if students are offsite. Led by Classroom, Meet, Gmail (email), Calendar and Drive (file storage), the Google Workspace suite offers our students an incredible range of products to support their learning that integrate well together.
We recognise that there are apps that are of great benefit to our students mental and emotional wellbeing. These are available on our Self Service portal on the 1:1 iPads so they can be accessed outside of school.
Dynamic learning environment
Our digital tools are part of a wider dynamic learning environment which allows us to take learning way beyond the classroom.