The item you've tried to access isn't currently available on the website. It may have been archived automatically or it may be configured to go onto the website on a future date.
Most students study four A Levels
Choose from over 20 subjects
Combine with the Theory of Knowledge and academic enrichment and maintain a real breadth of learning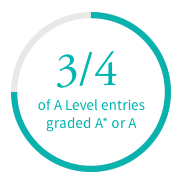 Study six subjects and gain breadth and depth of study
Recognised by universities worldwide
Study the Theory of Knowledge , complete an extended essay and engage in creative, sporting and community service activities
Our approach
Our progressive approach to learning encourages curiosity, creativity and collaboration in all areas. You'll learn in small classes, led by brilliant, creative staff with a passion for their subject.