Sports roundup
Our hockey players have continued to enjoy the opportunity to represent the school through friendly fixtures, cup matches and tournament play. A high number of Year 7 and Year 8 pupils participated in an enjoyable triangular fixture series with the Perse School and Kimbolton School on Saturday 3 November. The girls performed brilliantly and produced some excellent results on the day. The triangular fixture was an great opportunity and format for all involved and something we look forward to including more of in future hockey programmes. The girls' U12 and U14 hockey teams have done very well to qualify for the England Hockey Regional Tournaments over the coming weeks and it will be a great opportunity to learn and challenge themselves against some of the best teams in the region. The 11-a-side teams are also in action over the next few weeks as they test themselves against Culford, Bedford Modern, Saffron Walden and Wisbech.
The football programme is growing all of the time and there was a momentous day in Stephen Perse Foundation history on 30 October. The Under 13 girls played against Neale Wade School in the Cambridgeshire League, the first such fixture in the 137 years since the school was founded. The girls performed superbly well, defending heroically at times. Although ultimately losing to a very strong team, each one of them can be proud of the way they performed.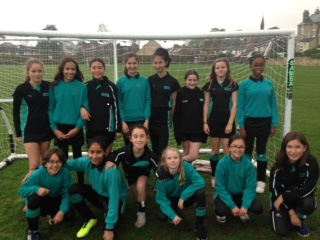 There was also a packed schedule on Saturday 3 November with four boys' teams taking the long trip to Kimbolton. Results on the day were very positive, two highlights being the Under 13 and Under 12 B victories.
The Year 8 boys then hosted a four team futsal tournament in the Sports Hall on November 7. SPF had two teams, and Netherhall brought two teams across for a very competitive set of fixtures. Going in to the last game of the day, either SPF team could win the tournament. Team 1 required a draw and Team 2 needed a victory over their peers to guarantee first place. In a great display of futsal, the final match finished 2-2 giving the overall win to SPF 1, in a match that could so easily have gone either way.
It was a great achievement for our teams to finish first and second and an opportunity to put into practice all the students have learnt in our Monday Games sessions.
Finally, well done to all our netballers who attended another amazing Maverick's coaching session, this time with Lindsey Keeble, Maverick's first team defender.
Everyone worked extremely hard and came away buzzing with new ideas and positive feedback ready for the County schools tournament this weekend.
Remember to stay up to date by checking the sports website (www.stephenpersesport.com) and following us on twitter @SPFSport.