Published on 23/02/14
From setting off rockets as part of a study of outer space to debating who should have the Elgin Marbles, baking bread over an open fire to crewing a Tudor ship - all things are possible within the Junior School curriculum.
With a half termly topic led approach in Years 3 and 4 and shorter thematic units in Years 5 and 6, it is possible to teach the necessary skills of subjects such as English, History and Geography in a meaningful way, making the most of the local resources and interests of the children.
How better to learn about letter writing than to incorporate it into a topic called 'Hot, Cold and In Between', where the children learn about Scott and Amundsen's race to the South Pole, writing their own letters at various points in Scott's journey culminating in a visit to the Scott Polar Research Institute to see the real letters written by the fateful group? What better way to learn about nets, product design and marketing than to design and make boxes of luxury chocolates learning first from the masters at Cadbury's World, using this as a springboard to create their own marketing strategy with scripted adverts and sample products?
All this requires a flexible timetable, creative staff and inspiring teaching but linking topics together to make teaching more meaningful is not new and many schools run a similar type of creative curriculum. What makes the Junior School different is the other ingredients added to the mix which bring depth and a broader element to the learning.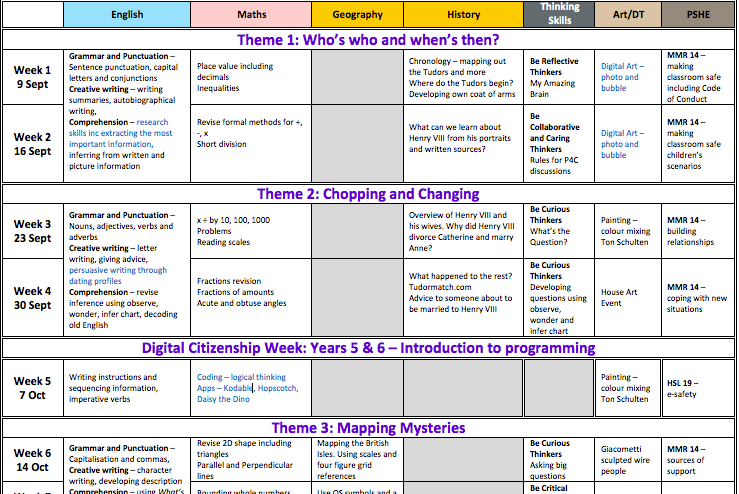 Firstly, using thinking skills to help the children become active thinkers means that the skills being openly valued are those of critical, creative, collaborative, caring, curious and reflective thinking. These are used specifically in tools taught through thinking skills lessons and are then embedded in the curriculum lessons. This moves the lessons away from being purely about assimilating facts to developing children's thinking where the knowledge becomes just a tool in the process. Take, for example, a thinking skills lesson on critical thinking, teaching the principles of cause and effect which is then used to help the children understand and provide a solution to the problem of the large numbers of poor people in Tudor times.
Second, the inclusion of Philosophy for Children (P4C) in the curriculum has developed the children's ability to discuss, agreeing and disagreeing with each other, learning to be flexible with their opinions and question what they hear. This open style of discussion has its roots in the big issues and provides a challenging context for thinking but the effects of regular discussion at this level is far reaching into other areas of the curriculum.
Third, the style of teaching has changed to meet the needs of young learners. Gone are the days of textbook or PowerPoint led lessons that must reach the plenary after 40 minutes. There is an expectancy at the beginning of a lesson as the pupils are keen to know how they are going to be challenged. In order to ensure that ultimately they will be able to choose the most appropriate tools for a given task the children have ample opportunity to practice using a wide variety of source material, including printed matter and artefacts, and digital resources, including iPad apps. The importance of the acquisition of transferable skills during Key Stage 2 years cannot be underestimated.
Finally, the value of inspirational pedagogy is limited unless it is underpinned by consistent nurturing of the dispositions or habits of an active learner. In addition to the obvious advantages of the development of children's curiosity, concentration and self-belief and their ability to be risk-takers and collaborative workers, behaviours such as independence, initiative, resilience, good judgement and empathy are vital if a young person is to maximise the benefits of a unique curriculum which is delivered by teachers who are passionate about the process of learning. There is a whole school approach to unpacking each learning habit and through a series of assemblies and tasks the children are equipped to reflect on their individual portfolio of learning characteristics, assessing strengths and weaknesses and challenging aspects of their character. The real power of this approach is in handing the children control of their development as learners.