Published on 09/07/19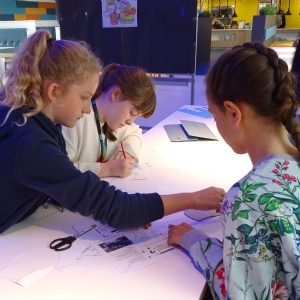 Year 8s experience trading, the imbalance of resources, and international expectations in this world feast game.
Limited resources make this a game of rivalry (and a lot of yelling!). The outline is that each group is given a country or continent and certain objects - pens, glue sticks, pictures of products etc. Each country has to, at the end of an hour, bring certain foods to the 'world feast'. However, each country doesn't necessarily have all, or any, of the necessary resources to do this. To make things worse, and better for some, some groups are larger, some with more money, and some with the only copy of something. This accurately reflects the situation in the world. For example, China, with a group of seven, and only two pencils and the only template of an arrow (which is necessary for all), had to produce 20 bowls of rice.
"Pencils are not for sale anymore!"
All students threw themselves into the task - some with diligent colouring in, and others with heated debates (who should have the red pencil? What do you have to offer?). Most students realised the task helped with "team-building skills, how to negotiate and business" while very few questioned the imbalance of resources etc. (Perhaps they were too focused on producing enough of their food in the allotted time).
"This is so unfair!"
By the end, with everyone finishing before time was up, a reflective task meant every student became aware of the issues arising from world trade, including conflict caused by desperation. Overall, a lesson of how some countries will find it harder to trade in the world, imbalance and trade.