Published on 07/02/14
Our Sports department prides itself on its growing sporting prowess. All our students enjoy an extensive timetabled programme including netball, hockey, tennis, rounders and athletics. Our comprehensive fixture list provides ample opportunity for the students to represent the school. We endeavour to give all students the opportunity to compete, whilst also aiming to challenge our elite teams who are consistently achieving significant success at local and County level. Regional Tournament participation is a common occurrence and we are proud of our sporting pedigree.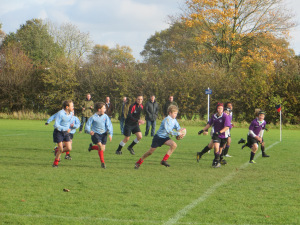 The merger with Dame B's allows us to plan for the future, together. Combined sports workshops and inter-house/school competitions are high on the agenda and a cross country event is planned for later this term. Dame B's year 5 and 6 have been involved in fixtures in the past couple of weeks with every boy and girl having first-hand experience of playing competitively. The wonderful facilities at Dame Bradbury's are clearly a great help and the recent U11 Indoor Athletics team success (second place in the Uttlesford Sports Partnership event) is a good example.
In Cambridge, we can easily access many different facilities. Fenners Indoor Cricket Centre and Kelsey Kerridge feature heavily in the Senior School and 6th Form timetables and our hockey astro and netball courts at Latham Road, double up as 15 tennis courts in the Summer term. We also make use of the river, with students being able to opt to participate in rowing from year 10 onwards. New to our sports ground this year is the makeover of our jetty, which will allow us to offer canoeing during Senior School lessons in the near future.
Alongside these more traditional sports, our students get the chance to participate in activities as diverse as touch rugby and zumba, or 'West End' dance and ultimate frisbee all offered within the curriculum. This is also the case at Dame B's with year 2 recently creating their own dances with the Water Cycle and year 4 creating routines to Disney songs, developing their exploration of characters from English classes. Sport is therefore not just stuck in the PE area of the curriculum!
We are thrilled that so many students are involved in sport outside of the curriculum and are extremely proud to offer so many opportunities to the students and those activities are listed on our website. Knowing that at least 90% of our year 7 take part in sports clubs every week is a sure indication of the positive approach of the students and staff.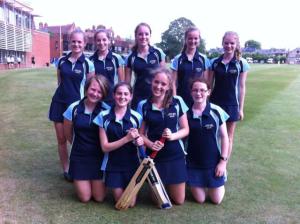 We have realised that cricket is a growing sport amongst girls and have added this to our curriculum. Last season culminated in our year 6, 8 and 9 teams being crowned County Champions. What a platform from which to work! We can't wait for the new season. Meanwhile the list of sports is growing and no more so than at Dame B's. Pupils are currently attending a Wednesday morning running club with the aim of completing the Virgin London Marathon 2014 course. At 7.45am, come rain or shine, they are in School, demonstrating a wonderful, positive attitude.
To provide for all of our students, the PE staff are supported by specialist coaches, to enhance and extend the learning of all who attend. This year we are pleased to have been joined by County Netball coach Sarah Lawson and County Hockey Coach David Grammer who have been working with teams throughout the Foundation in lesson time and during extra-curricular time. Dame B's can also boast of a previous GB team netball player and a previous UK athletics team member in their department.
Within the Junior School, the sporting opportunities have grown hugely with the appointment of a full time Junior School Sports Teacher to work alongside the existing PE department. The result has been extremely positive with our achievements growing in number. Our netball teams are becoming a force to be reckoned with and our successes are steadily rising. A new dip into different sports includes teams competing in an Aquathlon and a Biathlon, which have proved very popular. Cross country running has also been a new venture for the Junior School and our year 5 and 6 A team came third out of 33 schools teams at The Bedfordia Cross Country Competition recently. A truly inspiring result, especially as this was the first race some had ever competed in. If you add to this the year 5 and 6 ski trip, it is an exciting time to be a junior school student.
In the Senior School and 6th form, there are also opportunities for students to take part in ski trips and Sports Tours. Last year we took 3 hockey teams to South Africa for a fantastic 10-day tour including training sessions, match play and time spent with host families. More locally our year 9 and 10 netball teams took part in a netball tournament in Shropshire, playing club teams from around the country. The year 10 returned as tournament champions.
The 6th form have a wide variety of sports to choose from during their enrichment time and in their extra-curricular time. They enjoy social sports clubs but are also strong in their competitive sports, regularly featuring in County finals. All 6th form students also have access to any of the classes taking place at Kelsey Kerridge Sports Centre, ranging from boxercise to 'spinning', or yoga to weight training.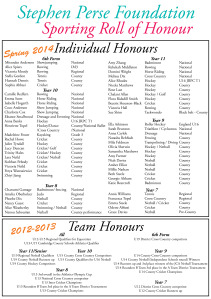 Overall, we aim to promote a positive approach to sport; to introduce the joys of a healthy lifestyle, introducing students to an activity they may be involved in for the rest of their lives. Our aim is to build on and to maintain excellence in our major sports. It is also to foster participation and collaboration throughout the Foundation in a wide variety of sports. Our curriculum offers at least 2 1/2 hours a week of timetabled sport, but the opportunity to extend that is available from year 3 to 13. We also aim to develop excellence amongst those who wish to continue to aspire to a higher level. Indeed we have athletes competing in a variety of sports at national and international level.
Further details of our sporting successes are found on both our websites, www.damebradburys.com and www.stephenperse.com with Twitter feeds also keeping you up to date: @damebradburys and @SPFSport