Published on 26/03/18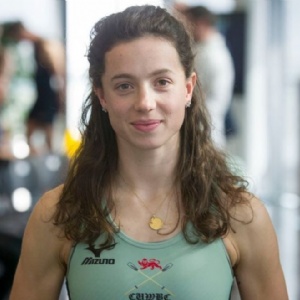 Imogen, Millie and Larkin all enjoy victory on the Thames alongside their fellow Cambridge rowers. So what inspired them to row?
Saturday 24 March was an exhilarating day for Cambridge residents as we watched both our men's and women's boat crews win the 2018 Boat Race against Oxford.
It was even more exhilarating here at the Stephen Perse Foundation as we watched three of our alumni race as part of the women's crews; Imogen Grant in the Blue Boat, Millie Perrin in Blondie (the reserve boat) and Larkin Sayre, also in Blondie.
Needless to say, we couldn't be more proud of these inspiring athletes. We asked them about their journeys and what led them to where they are now. Here's what they had to say:
"I was a student at SPF (then the Perse School for Girls) for a decade from the age of 7 to 17. I loved the school, loved my friends, loved the challenge of all the subjects and clubs. Looking back now, the only thing I missed out on was trying rowing! Thankfully, when I arrived at the University of Cambridge to study Medicine I had the opportunity to do a taster session in Freshers week and took to it almost immediately.

I'm in my fourth year at uni, and my fourth year of rowing, and I could never have imagined that this is what I would be doing now. I won the 2017 Boat Race and represented Great Britain at the World Rowing U23 Championships last year, and I don't intend to stop any time soon. Perse Girls was a fun and challenging environment where I was surrounded by amazing female role models, and now day to day in training I get to spend time with even more strong women. Perse Girls taught me so much that I now get to put into practice every day, in rowing and medicine."

Imogen Grant, Blue Boat

"I will never forget my time at the Stephen Perse Foundation. I had so much fun there and learned so many life skills. Most importantly I learnt to always push myself to achieve my goals and that dedication brings rewards. This has strongly influenced who I am as a person today.

"My first ever rowing session was in a games lesson at SPF. I was never very good at the traditional sports, such as hockey or netball, so I thought that I would try my hand at rowing. We had a six week starter course when I was in Year 10 and was hooked from the first session. I have never looked back!"

Millie Perrin, Blondie

"I didn't actually row at all before I started university in the US at 18. My roommate freshman year was on the team so I wanted to try it out. I've loved it ever since!

"I was always into sport (netball and hockey etc) so I picked it up quickly. It's a great confidence builder and I honestly don't think I'd be able to make it as a woman in engineering without having such a strong team always supporting me. Both the MIT rowing team and CUWBC are some of the coolest, most hardworking ladies I've ever met!"

Larkin Sayre, Blondie
Congratulations once again to Imogen, Larkin, Millie and the rest of the Cambridge crews! Staff and students alike are really looking forward to their planned visits to school.
Hear more from Imogen through her Cambridge News video interview, or take a closer look at where the Cambridge crews trained alongside Junior School pupils, who went to meet their Head Coach a few weeks ago! Read about their experience here.
Cover photo credit: Cambridge News
Squad photos credit: CUWBC