Published on 11/02/14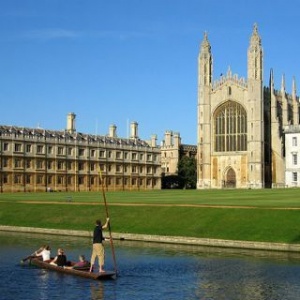 No school can attempt to replicate the facilities of an entire city, especially when that city happens to be Cambridge, world-famous in so many spheres. Visitors entering our school for the first time frequently comment on its TARDIS-like nature: our insignificant front door and surrounding wall don't even hint at the space within.
Introduction from Anna Kilby, Vice-Principal (Pastoral)
From the mood-lit Dining Room to our neon graffiti wall overlooking the old beech tree, our use of space is deceptively clever. We are really lucky to be so near to all that it has to offer and the students benefit in numerous ways, whether rowing on the Cam or working with researchers from the Scott Polar Institute.

It is the access to people who are at the forefront of their field which makes Cambridge such an amazing place to be and we are absolutely committed to maximising this resource. The Stephen Perse Foundation sits at the cross-roads between the enterprise of silicon fen and the academia of the University. It is an exciting place to be.
Sport
We have a great playing field with 12 tennis courts as well as space for football, rounders and other sports but we use Cambridge to maximise other opportunities – when you have such facilities round the corner, it makes sense to use them! We use Fenner's for indoor cricket training and Kelsey Kerridge for basketball, badminton, squash, fitness training, gym sessions, and dodge ball. We wouldn't be using Cambridge to its max if we did not utilise the river! We offer rowing sessions at the CRA Boathouse in Kimberley Road and we will be able to offer canoeing from our very own jetty at Latham Road after the summer. The substantial pitches at the C.U.P. facilities, along from our 6th form college, are also another opportunity for us.
Museums
Sarah Holyoake, Head of Pre-prep says, "Cambridge is part of the learning experience – it isn't a trip. To our pupils, Cambridge is museums and meeting an expert." Recently, a visit to the Geology Museum on the Sedgwick Site resulted in children creating their own museum displays in the classroom, making labels on the iPads. They were inspired and stimulated by what they saw.


There is scarcely a museum in Cambridge which is not visited regularly by Junior School pupils. The most frequented are the Fitzwilliam Museum and the Scott Polar Research Institute but every year classes visit the Sedgwick Museum of Earth Sciences, the Zoology Museum and the Museum of Classical Archaeology - a top favourite with Year 3. Recently groups of Year 6 pupils have made a few museum trips in their lunch break as part of an 'Explore Cambridge' club. The whole year group have visited Trinity College as guests of Prof Val Gibson, mother of Lucy and Millie Parker. A visit to the Wren Library is a unique privilege and, as you would expect, the Botanic Gardens is a regular for many year groups.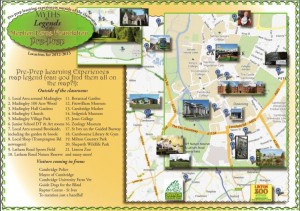 Here is our Cambridge Treasures map showing the extent and value of the city as a campus for Pre-prep.

Festivals
Engagement with the university is a central opportunity for us. There are the high-profile Science Festival weeks and the Cambridge Festival of Ideas too. However, there are other opportunities for schools such as at Murray Edwards College in March when Senior School students also took part in a lively workshop on wind turbines. There was also a 'speed dating' session, giving the young people just 4 minutes to quiz various Cambridge research scientists about their science background and their jobs.

Junior School jumped at the new Cambridge Science Museum when it opened in February and, having established links with the museum, we have attracted one of the founders, Dr Katia Smith-Litière, to talk at their next Inspire Me event.

So, access to the leading people in their field is something that Cambridge give us. Following the success of the Royal Institution Christmas Lectures by Dr Peter Wothers from the University of Cambridge Chemistry Department, the BBC commissioned a set of short films for schools using local Cambridge school students. Lauren Tagg (yr 7) wrote, "The Alchemist's Apprentices was an amazing experience for me. I learned so much, from the chemistry to how TV programmes are filmed! Dr Wothers answered all of my questions, and it was an excellent opportunity to find out more about fire and heat."
Culture

Cambridge is a treasure-trove for art and design. Year 7 will take to the city for a day in July to learn more about the architecture and flora of this wonderful City, and gain inspiration from their immediate environment. Botanic Gardens, here being used for art, then to West Road and the architecture of Norman Foster's Law Faculty.

Roger Bett, Head of Design comments, "It is not difficult to find sculpture in Cambridge but did you know that there are some 60 pieces available for view by the public in easy reach of the city centre?" The Design Department takes year 8 students on sculpture tours and to study the texture form, scale and location of the works. A highlight this year has been the Sculpture Promenade presented by the Fitzwilliam Museum which allows visitors to move amongst and even climb on the works.

It is fascinating to see the cross-over with such science and opportunities in art and the communication of scientific ideas. Artist in Resident, Jenny Walsh with Lotte Coppieters and Izzy Hale (L6) recently joined SAW (Science, Art and Writing) in collaboration with the Cambridge Science Centre on Jesus Lane to explore the properties of light.
Cambridge est notre cour de récréation!
Our language teachers are forever prompting visits to the Arts Picturehouse Cinema and to individual colleges when there is a languages film viewing or to take in some of the cultural dimension of language study via the Fitzwilliam Museum exhibitions or Kettle's Yard. The university features again with opportunities for our linguists to join in with university-based societies such as the Hispanic Society or the Russian-speaking society. It is a genuine advantage when they come to apply to university to be able to demonstrate such a live engagement with language and culture via the opportunities of Cambridge. Even a visit to the French food festival on Parker's Piece can be seen as an opportunity.

Of course, our historians love Cambridge! Three of our staff are on the committee of the Cambridge History Forum and not only keep their own historical research up to speed through this but have the chance to shape the lecture programme at the annual conference. Lectures such as that recently by Anne Applebaum on her new book on the Soviet take-over of Eastern Europe are a Cambridge treat, fully open to our students too.
Science
Cambridge is renowned the world over for its science. Our year 9 classes have taken this a step further by pushing the boundaries of our critical thinking course. The challenge was to discover what was meant by 'scientific research'. The best resource is, of course, the local one and the university scientists are very generous in their time. Dr Gareth Rees from Scott Polar Research Institute, Physics research students from the Cavendish Laboratory, Eliza Macintosh and Hannah Price, Post doc researcher Aoife O'Shaughnessy and PhD student Anzy Miller from the Stem Cell Institute all helped out.

The result was a set of science project which seemed to follow a curious food-related theme! Some examples were, "brain freeze" caused by ice cream, effect of low temperature on sense of taste, effect of salt concentration on melting point of ice, physical properties of different types of marshmallow, the composition of different fruit juices and, just for balance, the effect of music on concentration.


Moving up to the 6th form, Dr Hannah Siddle recently gave a talk for scientists. Dr Siddle is the leading expert in cancer research, looking at a step closer to developing a vaccine for a contagious cancer which is driving the Tasmanian devil towards extinction. Hannah recently spoke on BBC News (
http://www.bbc.co.uk/news/world-21754620
) and was no less inspiring with our own students.
"As a potential medic, I feel like the talk about Tasmanian devil cancer transmission fascinating as it raises the question as to how humans would approach the issue of transmission of cancers among humans if they became infectious",
Chevonne van Rhee (L6)
In the sixth form, the science gets a boost to a new level with some of our most dedicated students taking part in workshops at the Babraham Institute. Lucia Yin (L6) writes,
"I extracted a mouse's DNA, and then cut some slices of a mouse's brain before putting them on to slides seeing the protein fluoresced. We then made dilutions of different inhibitors and used a luminometer to measure how well they inhibited neutrophils."
And finally – some really big ideas posed by Cambridge
Cambridge's permanent museums and galleries, visiting collections, musical events and lectures are overspilling with material for Theory of Knowledge: how certain can we be of the things we know? How can we distinguish fact from opinion? Why do we preserve some objects and discard others? Libby Ahluwalia, our ToK coordinator, comments, "my favourite is the Museum of Archaeology and Anthropology, chosen by the IB class of 2013 for a last-day treat. We explored the museum using these questions as prompts -what does it mean to be human? what is the relation between people and the objects we create?"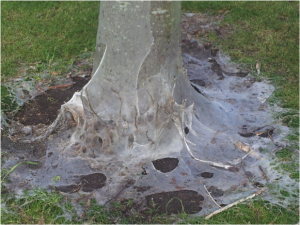 Never one to miss an opportunity, Helen Carpenter's English class have been taking a look at Bird Cherry trees on Jesus Green that have been transformed into ghostly spectres. Ermine moth caterpillars have encased the trees in veils of web to protect themselves during their transformation. Year 9 English have been using these images to inspire detailed and vivid descriptive writing.