Published on 15/04/16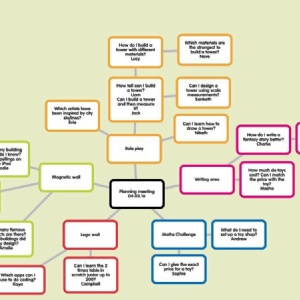 'Do' lessons are part of a three lesson cycle project. It is based on a child-initiated learning process where pupils decide what to do and what to learn.
This an an example of a project lead by a six year-old pupil done in a 'do' lesson. It is a video of our Madingley school.
In the first lesson, students plan something they want to do, in the following lesson, the child develops their idea or conducts research about it and in the third lesson pupils review their learning. Throughout the process, children start to understand that making mistakes is part of the learning process. They learn to deal with frustration when their idea does not turn out exactly how they planned.
For example, during the do lesson, sometimes students need to change their plans and we encourage them not to be worried if they need to start it again. They know that they improve a little bit in every project. Reviewing their learning helps them to become reflective learners.

Plan, Do, Review (PDR) is a process that reinforces the understanding of learning how to learn. We think it is important to share children's learning in and out of the school: from classroom displays to Twitter and Tumblr in our social platforms. Doing that, children have the opportunity to talk about their projects with family members and relatives. When children have discussions about their learning, they become more articulate and can defend their ideas better. The reflection process starts with the dialogue.
This time the author of the video, Neve, wanted to do a video of our school.There are many reasons why she might have wanted to do this: maybe she wanted to explore the iMovie app a bit further since we introduced it on World Book Day? Maybe because she was proud of her school? Or maybe because she wanted to show her school to her family in Singapore? We will need to check her 'plan' notes to find out her reasons.
Children learn how to justify their reasons too. Thinking about it makes learning meaningful and keeps children engaged.

Allowing time for PDR means that we allow time and space for children to share and develop their ideas, which allows them to foster their creativity. Children at the Pre-prep see their ideas become reality and they have the opportunity to try what they imagine. At the same time they learn how to organize themselves, to express their ideas, to carry them out at their own pace and practise all the values that as educators we aim for our students to have such as collaboration and enthusiasm, humour, and resilience.

My experience tells me that it is through PDR where you can see children's connections between disciplines; how they co-construct new learning using natural connections and how they are using their personal interests, which may be a curiosity learnt outside school that they wish to explore further. With PDR, class teachers see that children's imaginations and creativity have no limits. Teachers are there to challenge children's ideas, support their learning, facilitate with resources and guide children when needed.
Pre-prep students create hundreds of projects altogether over the year. These projects reflect children's learning interests which fosters their capabilities and gradually develops the attributes needed to live in the world beyond school.
If children develop all these attributes, if they learn how to learn when they participate in their own process of learning, the inevitable question is: - How can we make the rest of the curriculum more participatory? More democratic
This blog post not only wants to acknowledge the creative projects done by Pre-Prep students, it also wants to reflect on the difficulties children face by participating in a co-constructivist curriculum in our current test driven curriculum. A fast paced curriculum seems not to have time and space to listen to pupils voices.
As an educator that has now experienced PDR lessons I do not feel comfortable to just keep teaching knowledge and skills. If children are not participating in the curriculum and I am not listening to them, I feel I am not helping them to learn how to learn. I am not supporting them in what may be the most important competence; 'learning how to learn'.

Stephen Perse Pre-Prep has a long tradition of creating meaningful curriculums through topic based learning. Each term, teachers collaboratively create topic lessons where a theme over arches the whole term. Last Summer, mini beasts were everywhere. Victorians surrounded us during the Autumn term and now with the exciting new senior school building in progress, STEAM is on board. Topics have always been relevant and lessons contextualised but how can we make this learning more participatory? I am not talking about child centered activities, experiential learning or active pedagogy. I am talking about involving children in their own learning by letting them make decisions about what they want to learn in all the different areas of the curriculum.

Year One Madingley have introduced a regular 'planning meeting' as an assembly point where children can express their learning in relation to the curriculum areas. A Popplet below summarizes a typical weekly planning meeting where children can put forward their independent learning research questions. Different disciplines are considered and the teacher encourages them to think about and justify what they want to explore in a specific area. ''I feel I know the children better when I see them in the 'planning meeting' sharing their thoughts, also when they are using the independent learning time and challenging themselves'' I said to my mentor Kate Lee in one of our conversations.




Popplets that summarize children's learning challenges as well as providing a framework for independent learning during early morning sessions reflect another way to develop curriculum.

Children participating in the process of learning, being the active agent of their process, encourages me to keep asking them - what else do you want to learn?

Questions for the readers and educators who would like to engage in this debate are welcome to help us on how maths and literacy curriculums - high stake standards / end of the year expectations - can build on this participatory pedagogy rather than being standing alone subjects.
A huge thank you to the Early Years team who supported me throughout all the transition process and that without their experience this would have been a difficult start. Specially, to Kate Lee who keeps pushing boundaries and Sarah Holyoake who lets you Plan Do and Review in your own pedagogy as an educator.
April 2016.