Published on 16/02/17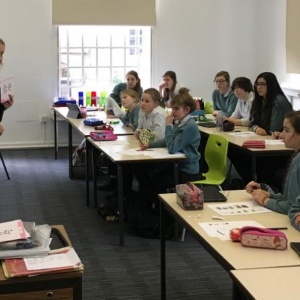 Earlier this term the Year 8s had the chance to learn some German, Mandarin Chinese, and Russian, as well as to practise their Latin derivatives.
Their usual global outlook slot was taken over by modern and classical linguists so that all the students could have the chance to meet some new languages.
The Year 8s will be making their modern language choices for next year by Monday 20th February. They can continue studying French and Spanish. However they can replace one of those languages with either German, Mandarin Chinese or Russian.
Whatever they choose, they certainly enjoyed all these aspects: learning more about the connections between Latin and English; the tones and characters in Chinese; getting to know the Cyrillic alphabet in Russian; and going on a lion hunt in German!