Published on 30/03/17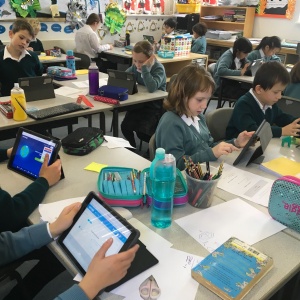 By Liese Neely, Junior School French coordinator
Our Junior School's amazing week of integrated learning, of threading languages through our curriculum, has left me feeling a little in awe of our pupils' casual acceptance of differences and great knack for spotting similarities between cultures.
Seeing our pupils puzzling over books that read from right to left, vowels that have four different tones, letters that are so beautiful they need to be painted, I am filled with hope for their future - I see their wisdom, tolerance and curiosity, their joy, acceptance and questioning and I feel optimistic. Language talks, it opens our minds, it allows us to collaborate and encourages us to see things from other perspectives. In languages we spot patterns, we take risks, we empathise, we communicate. Language talks.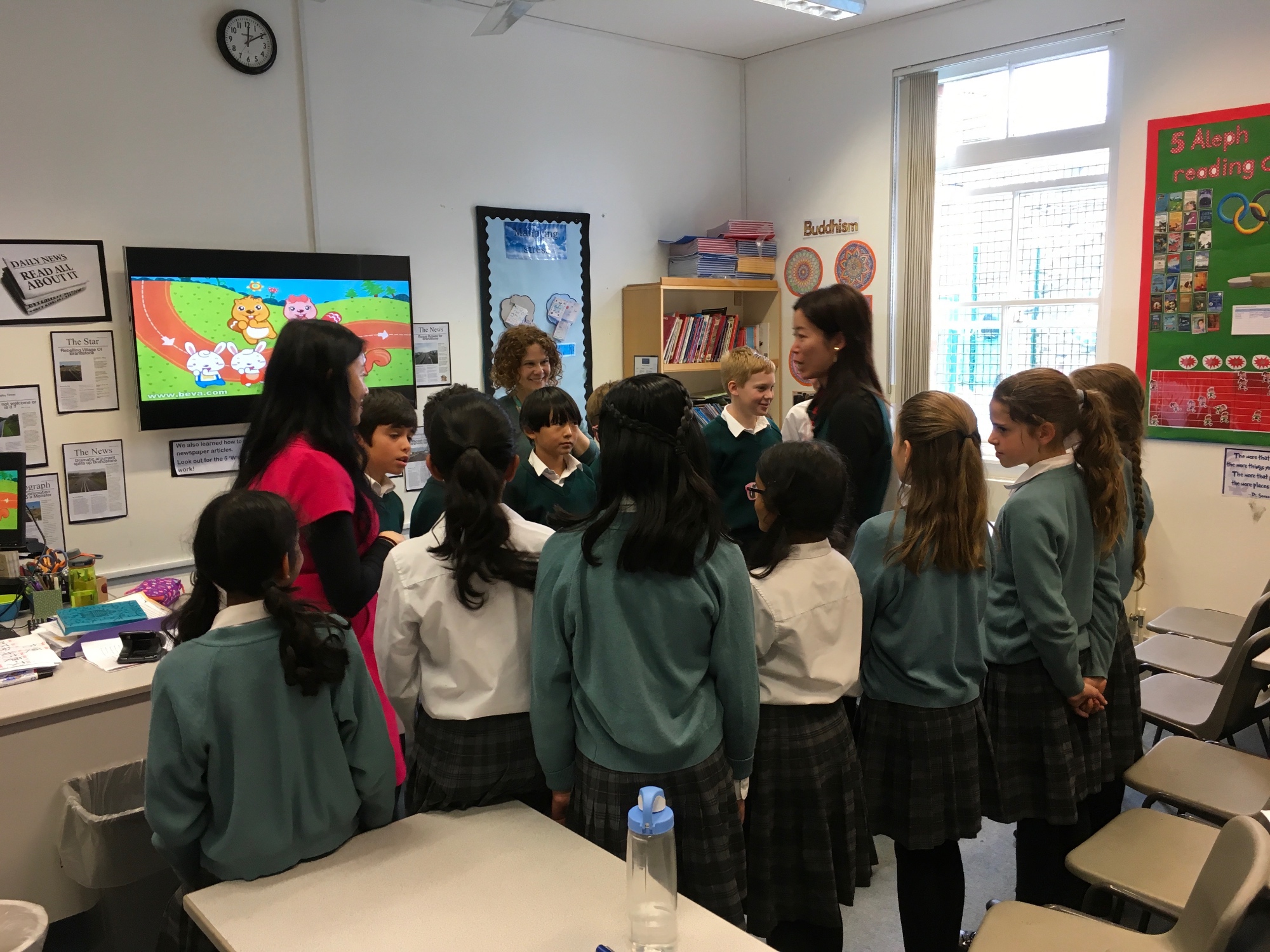 In the week running up to our special week of language-focused events and activities, many of our pupils were to be seen and heard in the library or courtyard being filmed in their own 'mother tongue' by Mrs Rogers. These short videos have been used to create a wonderful interactive display in reception, which celebrates the diversity of languages and cultures within our school, as well as the enormous linguistic talent of our young learners.
Mrs Foreman opened our week with a fascinating assembly which allowed us to reflect on why humans developed language and several pupils shared their favourite words and phrases in some of the many languages they speak. Throughout the week in assemblies we were treated to a series of inspiring 'language talks' given by parents.
On Wednesday Mrs Li and Mrs Mak introduced us to some of the beautiful characters which make up the language of Mandarin; they ended by saying that, as so much of the world's population speak this complex language, to master it is akin to conquering the world!
The following day Mrs Jabado enthused us by explaining that she grew up learning three languages: Arabic, French and English. Her family used each language for a different purpose, with the result that when she first went to school in Paris her teachers were surprised that she could not name fruits and vegetables until they were informed that her family always talked in Arabic whilst cooking. Stressing the vital importance of communication across the globe she encouraged us to learn from each other and, as a result, we are setting up a weekly 'language lunch club' next term when we can chat in various languages, teaching and learning from each other while we eat.
Our next speaker, Dr Kaneider-Kaser, gave a fascinating and entertaining presentation about the language of German. This gave us a real sense of how a language evolves over time and crosses country borders, and how different dialects challenge even those who understand a language. She ended by hinting that her own children, two of whom are Junior School pupils, have created their own language, Ge-english, which leaves the adults in the family a little mystified!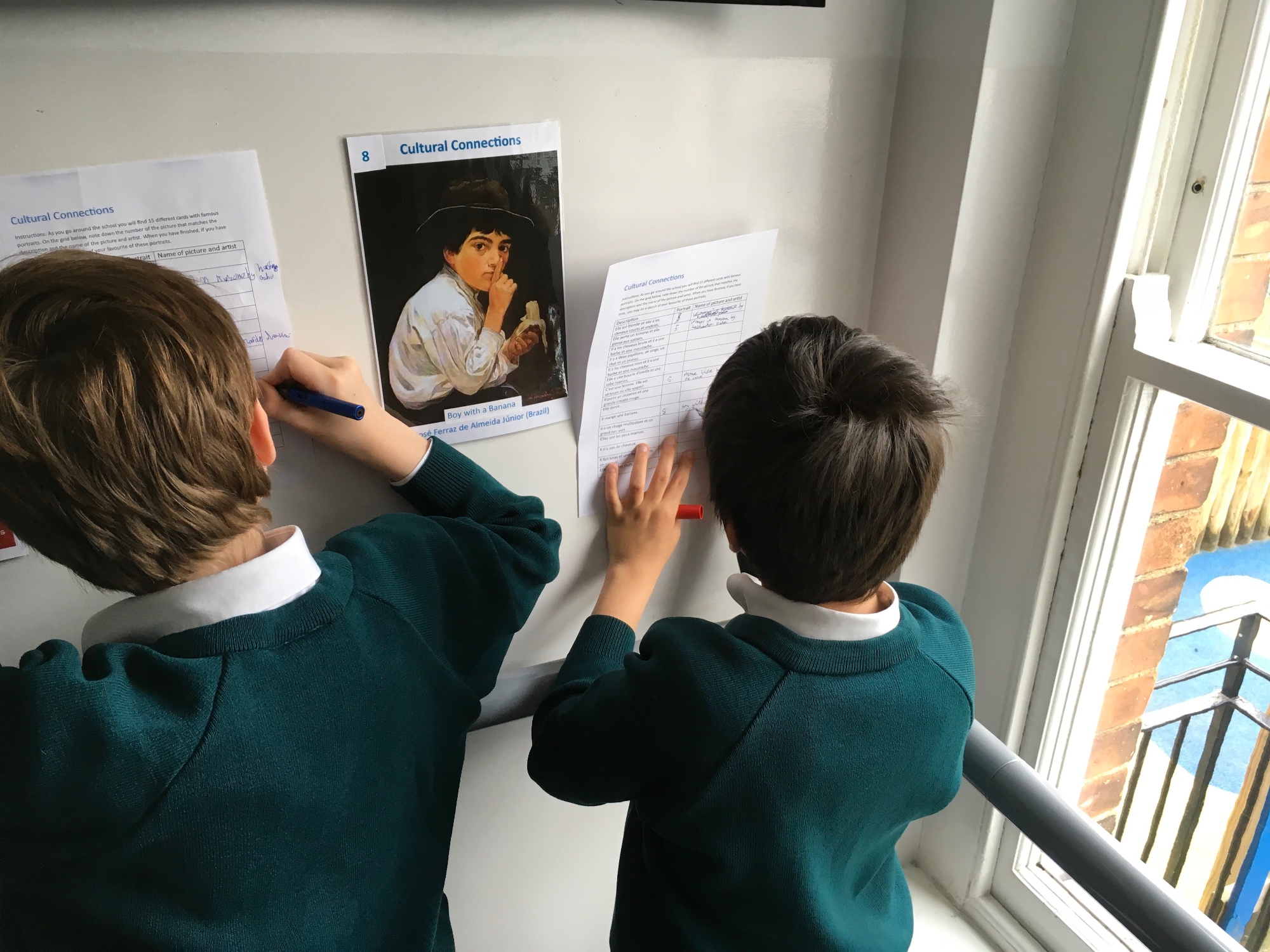 On the final morning of the week, we were taken further east and introduced to the fascinating languages of Serbian and Turkish. Ms Ristik and Mr Cektir both did an excellent job of making these complex languages accessible and it was fascinating to hear how Serbian is unique in its use of both Cyrillic and Latin scripts.
Hearing so many languages within our school was quite infectious and children really stepped up to the Duolingo challenge of developing a language learning habit, a sort of 5 (minutes)-a-day, or 10-a-day if we are to follow the new guidelines. There was a buzz around the school as pupils could be heard working on their Spanish and French, as well as getting their tongue around totally new languages ranging from Welsh to Portuguese to Hungarian. Teachers joined in the Duolingo challenge too and could be heard sharing some of their new vocabulary around the school. There was fierce competition within the year groups and the final impressive scores, representing many, many hours of language practice were announced in assembly at the end of the week.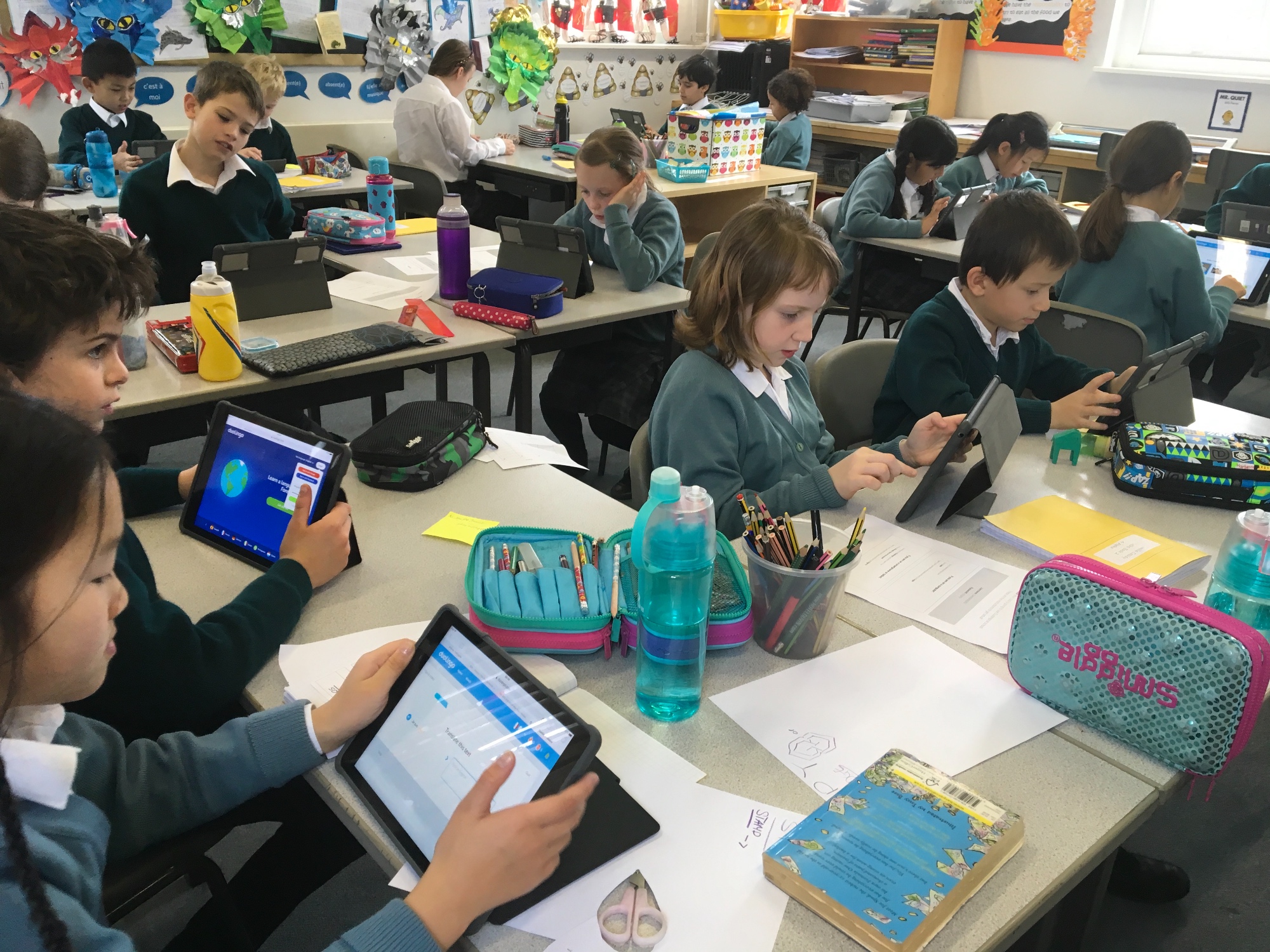 Throughout the week pupils tried their hand at Aztec maths, Egyptian and Chinese methods of multiplication, they followed cultural fact finding trails around the school, completed quizzes and there have been reports that French was the lingua franca of the Science lab. At break times there were playground games from around the world, even some aerobics in French and Spanish, in PSHEE diversity was the theme of the week, in form time pupils enjoyed sharing stories in different languages from home, and in the library the dual language books were very popular.
A highlight of the week was our trip over to the Senior School to watch the very interactive play, 'Shipwrecked en France' by the visiting Onatti Theatre Company. There was no dozing off in the back row here; pupils were put on the spot, questioned and roped in to take roles in the play. It was spontaneous language use at its best and, judging by the laughter during and chattering after the play, it was much enjoyed by all year groups.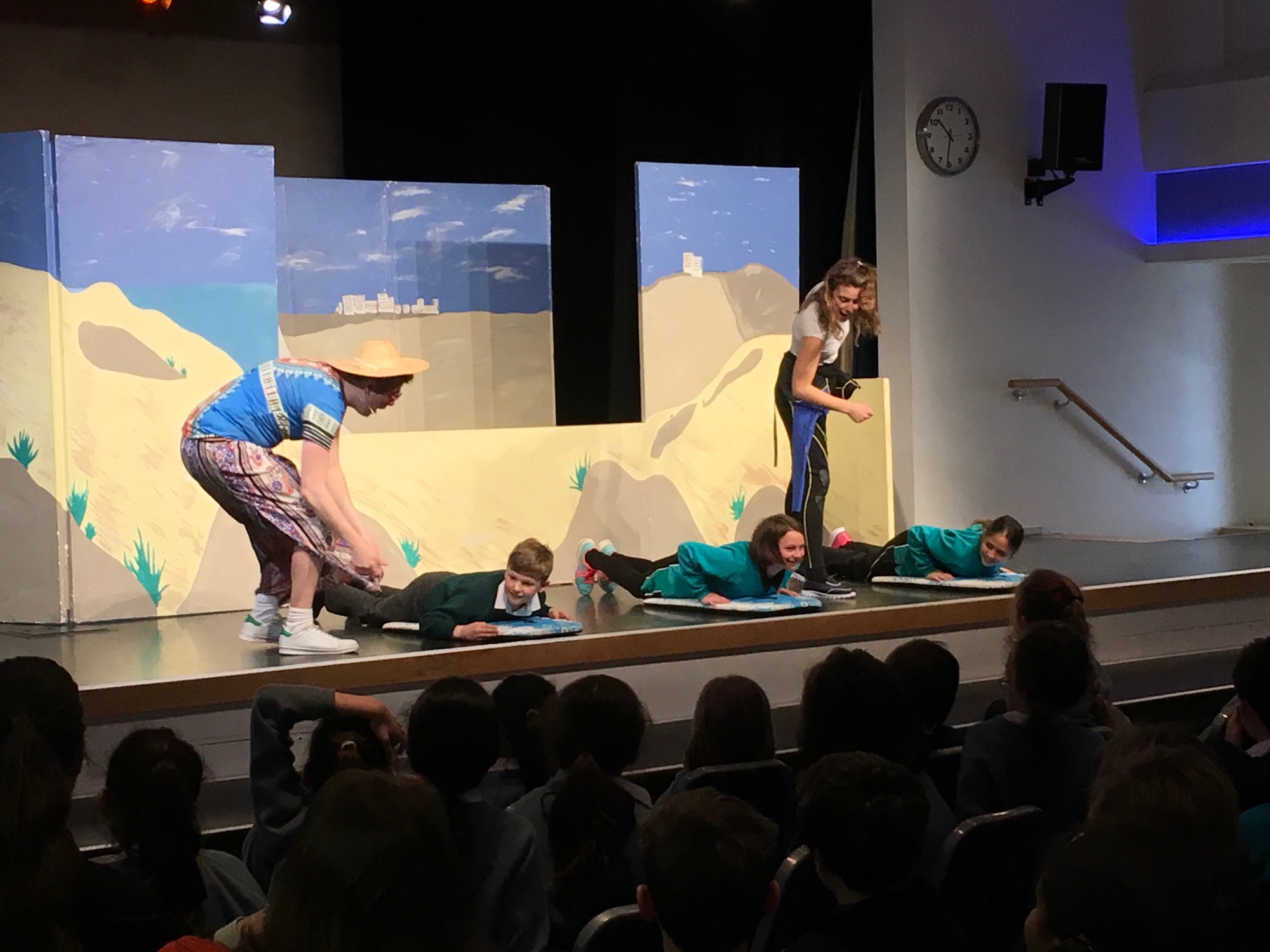 We are very grateful to several parents who came into school on the Thursday to help us run our 'Discover A Language' workshops, which were a huge success. Just coming out of a very enjoyable session, where they had learned how to make friends in Mandarin, a little group of Year 3 pupils were heard saying, 'I wonder which language we are going to learn next'. It turned out to be Hebrew and featured balloons, singing and many questions from curious minds. There were also fantastic French, Cantonese and Italian workshops, which made for a full and varied day.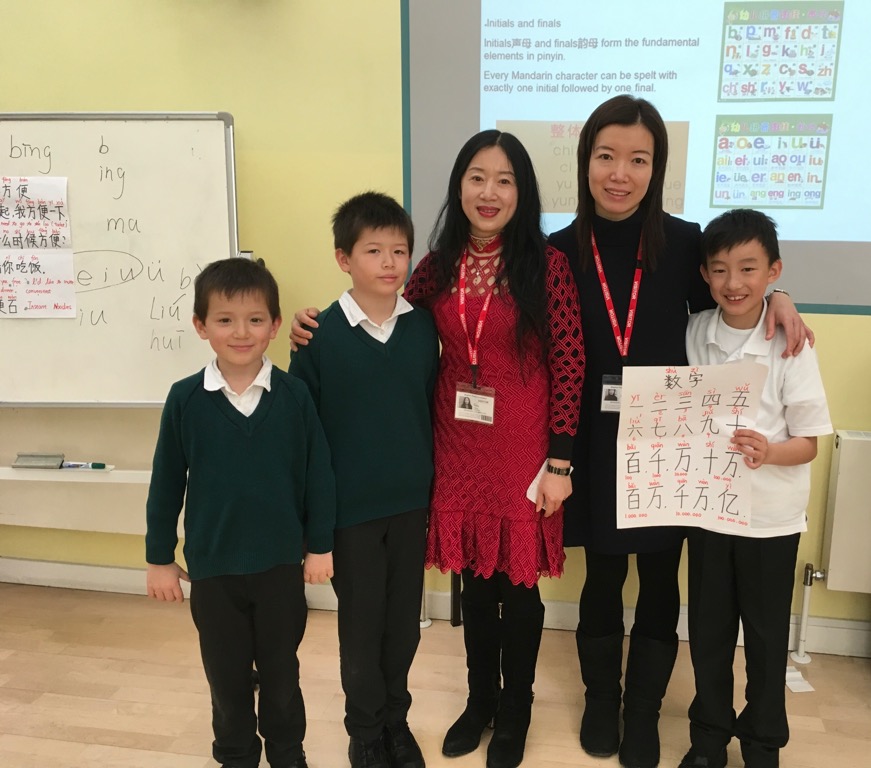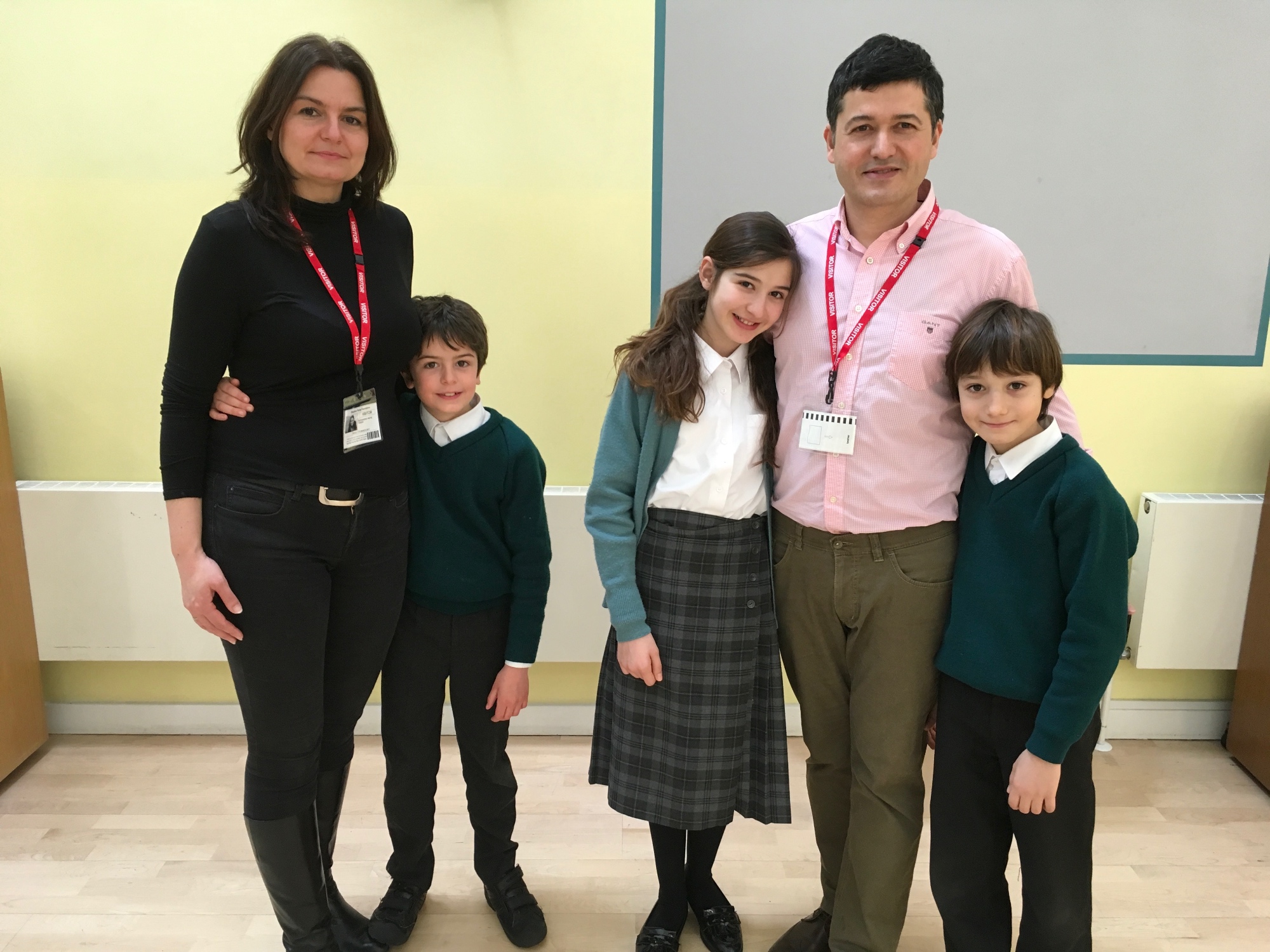 It was 10.20 on Friday that was the moment many had been waiting for; it was the start of our charity cultural connections break-time sale. Pin the flag on the country, water fun, card games and the ingenious Deliveroo by scooter were just a few of the activities that kept us all highly entertained and gave us plenty of opportunities to spend our coins and raise a wonderful £132.81 for the charity, I CAN, which supports children with speech and language difficulties and was chosen by our School Council members.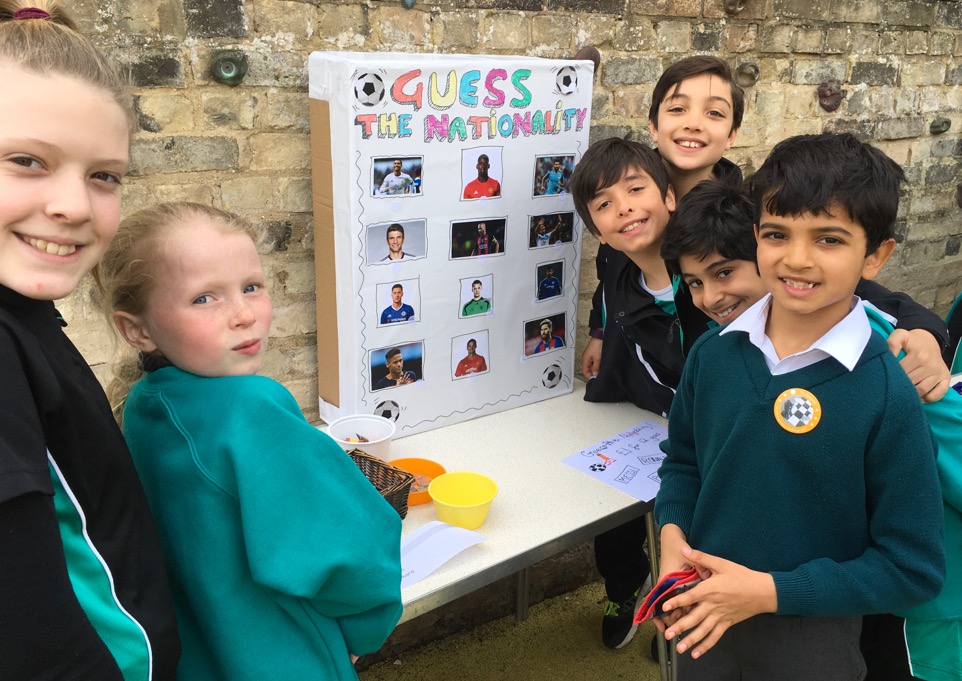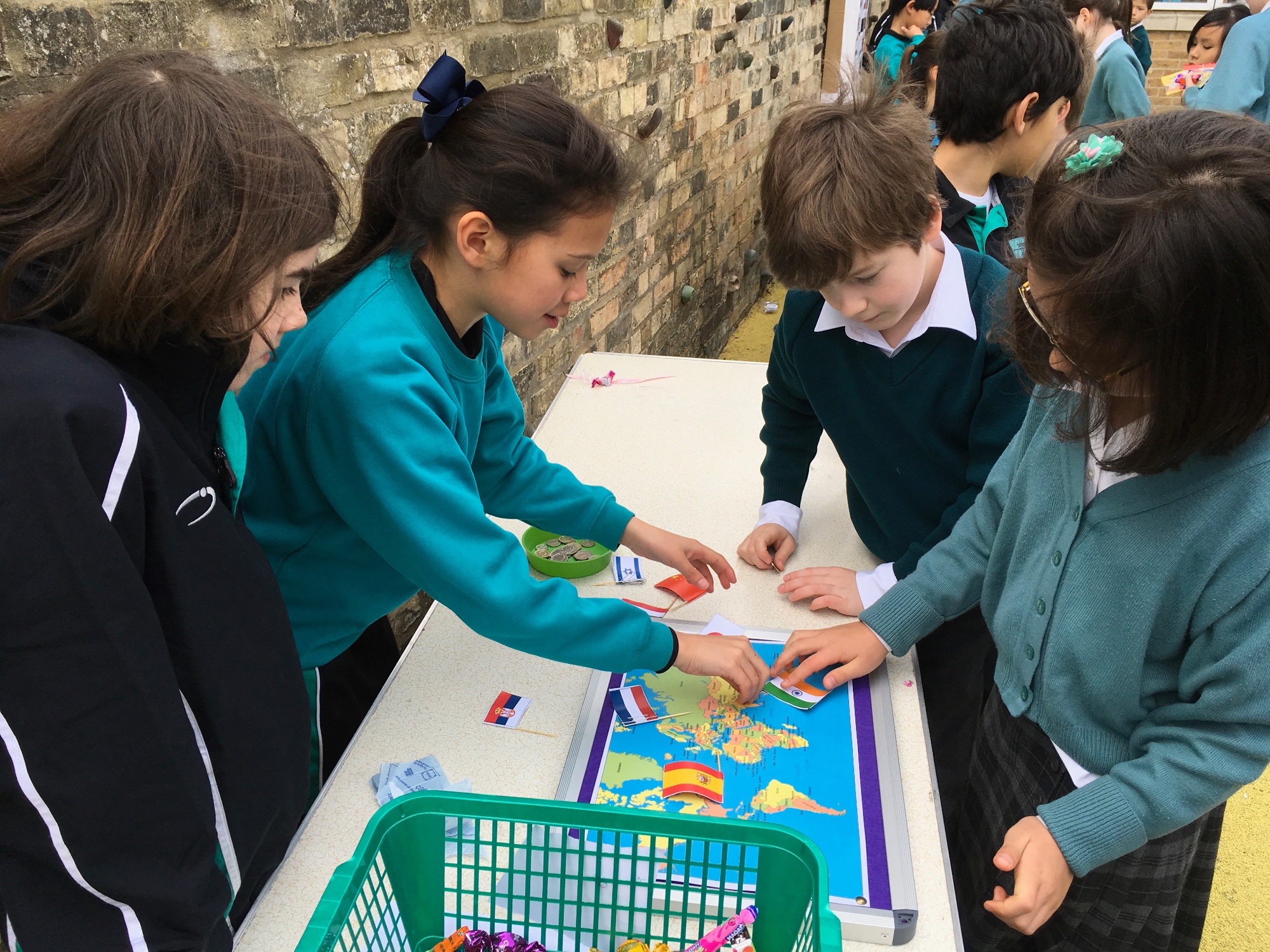 The week drew to a close with 'Fables, Fairy tales and Fashion', fabulous drama in French by all year groups and a rousing performance of the UNICEF song, 'Toi plus moi' that we had been learning in lessons. It was a fitting finale to our week of language inspired integrated learning.
Friday afternoon one week on....a small group of Year 4 boys are huddled at the bottom of the stairs, a little flexing of muscles is in evidence... what's going on? As I approach I hear,
"Je suis plus fort que toi"
"Non, je suis plus fort que toi"
"On verra"
... lines from the Aesop fable, "Le vent et le soleil", that Year 4 pupils had acted out the week before. It is good to know that such a time-honoured preoccupation, (who indeed is the strongest, or perhaps, more importantly, how do we define strength?) is now being carried out in French at the Stephen Perse Junior School. Language Talks!
Liese Neely, Junior School French coordinator