Published on 21/10/16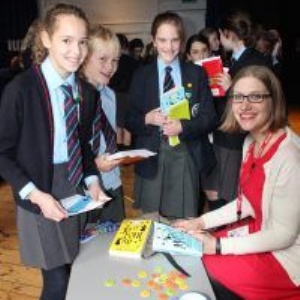 Pupils in Years 4-6 were delighted to welcome Robin Stevens, the author of the Murder Most Unladylike series, to Dame B's on Thursday. She was greeted by our Year 6 librarians, who were thrilled to have the opportunity to interview her. They asked a range of interesting and thoughtful questions, from asking her whether her characters were based on real people, what inspired her to start writing, and whether she had any tips to offer a budding author. Robin loved our fantastic library, with its amazing tree. Our librarians were thrilled that they had spent time with such a successful author.
Following her 'grilling' in the library, Robin gave a fascinating presentation about her books to pupils from Years 4-6 in the theatre. The children were also given a masterclass in how to create characters and a murder mystery.
The afternoon ended with questions from the children and a book signing, including copies of Mistletoe and Murder, the latest book in the series on the very day it was published. We would like to thank Hart's Books in Saffron Walden for supplying the books that so delighted the children.
This was an amazing opportunity for Dame B's pupils to gain an insight into the way an author works and certainly inspired many of the children to start writing their own murder mysteries!