Published on 15/03/17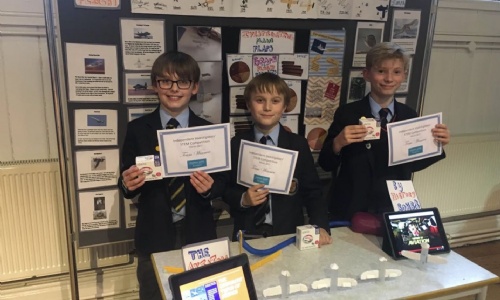 Last Friday ten teams of our budding and most passionate Year 5 and 6 scientists from across the foundation exhibited their STEM projects to an audience of parents, teachers and the judge, Mr Dave Walker, Head of the Senior School.
All of the teams had been working hard since the start of spring term on our topic of flight. The annual STEM competition between our two schools has been running for a number of years and offers the opportunity for the children that take part to spend some time investigating a topic of their choice, work as a team, and compete in a competition; developing the key skill of independent research.

This year's competition had some added interest injected when the The Royal Society contacted us and requested the chance to film the final; as well as interview Mr West (head of science at the Junior School), some of the competing teams and the views from some parents. The Royal Society wanted to capture the essence of the event and use it as an opportunity to showcase good practice as they aim to inspire more schools to collaborate and follow similar ventures.

The teams, each consisting of 3 to 5 members, entered the theatre with much energy and enthusiasm, relishing the chance to showcase all their hard work. Once display boards were set up and Keynote or iMovies were set to play, the competition was officially underway.

All teams were visited by parents and teachers, and the team members were able to answers any questions posed about their investigation. Methods were delivered and justified in great detail. It was clear that all pupils had followed a thorough scientific process and they spoke with impressive confidence, and passion for their work.

Mr Walker was mightily impressed with all entrants and he spent considerable time with each team getting to know their investigations and grilling the teams!

The result were awarded as:

Winning team - The Aviators

An investigation based on wing flaps and how altering shape and position affected the distance that model planes travelled.

Highly commended - Soaring Seeds

An investigation based of seed dispersal. Making different shaped seeds (all taken from real observations) and investigating the time they took to fall from a set height.

Highly commended - The Fizzy Phoenixes

An investigation into the volume of bottles and how it affected the height that they reached when they were connected to a pressured rocket.

We would like to thank all the competitors for the hard work that they applied to their investigations: Mr Walker, for taking the time to come to Dame B's and judge the competition, and Mr West for his work at the Junior School, supporting the preparations and ensuring his teams were ready to go.