Published on 13/04/17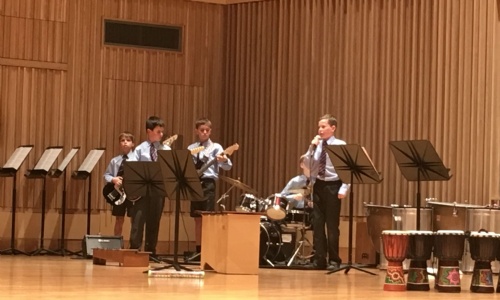 Imagine performing on a professional stage to an audience of 450 and being the recipient of a standing ovation from every member of the audience...
The Prep School led by Mrs Cooper didn't just imagine, together they made it happen. On Friday 24 March every pupil in the Prep School took part in the first ever Dame B's Prep Concert at the stunning venue of Saffron Hall. As the pupils stepped out for the first time on stage during the afternoon rehearsal the awe and wonder in their gasps was remarkable.

The evening performance was a wonderful rendition of musical styles from around the world performed by class groups, the orchestra, smaller ensembles and bands.

Year 3 enchanted us with their call and response songs and drumming from West Africa.

The Year 4 pupils composed and performed music to the story of Krishna and the King of the Snakes from India whilst Year 5 performed a spectacular Chinese ceremonial drumming and dragon dance.

Year 6 impressed us with their passionate Flamenco clapping, guitar and ukulele skills and singing of the chorus of The Gypsy Kings' Bamboleo.