Published on 19/06/17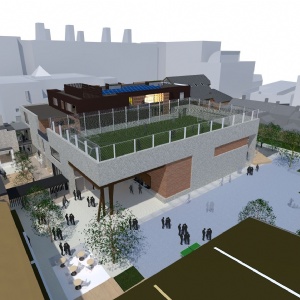 As the Stephen Perse Foundation's new building continues to rise, ready to provide sport in the sky for students, a time-lapse has been released showing the progress so far.
The Foundation's new building, on Union Road, has transformed the Senior School since building began last year and is part of the ongoing development of the Foundation which will bring superb new facilities.
Within the brand new five-storey building, there will be Cambridge's first rooftop Multi-Use Games Area (MUGA), a Sport England standard four-court sports hall, an activity space with viewing area and nine additional classrooms, as well as innovative hub spaces supporting the creative curriculum.
The new, state-of-the-art facilities will provide onsite indoor and outdoor sports facilities for all students within the Foundation to further enrich the curriculum, in addition to the facilities they currently use in Cambridge.
Watch our time-lapse video here:
To find out more about the new build, click here.