Published on 18/10/17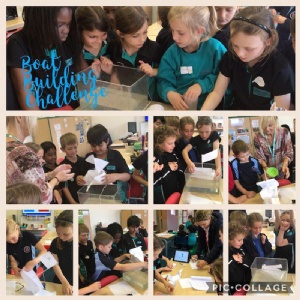 Excitement levels were high on Thursday 5 October as the Year 3 pupils from both the Junior School and Dame Bradbury's boarded the 'SPF ship' to set sail upon 'An Island Adventure'.
Having set the scene, a series of activities followed which were designed to encourage the pupils to use their critical and creative thinking skills. Treasure maps were made and codes were cracked in exchange for jewels and gems.
In the afternoon a rescue mission was launched as the children designed and created a small boat in which to escape from the island. When the time came to test out whether the boats were watertight, or not, a mixture of sighs and squeals of delight could be heard as the boats either floated or sank. Whatever the result there was no doubt that the children had experienced a wonderful day, full of activities to think through problems and form new friendships.
Junior School pupils and staff wish to thank their hosts as Dame Bradbury's who did so much to ensure that this collaborative project was productive and great fun.
I learnt that a curved boat floats better than flat boats. I was proud when we were second to finish the Island Hopping."
I loved the hoop race because we came 8th. We made an origami swan boat and it held 3 marbles. The 4th marble made it sink."
My favourite part of the day was when we made the paper boats. We got 49 gems. I was slightly sad when my boat sank but I managed to hide it. When we did the Island Hopping task my group was really fast."
The hoop challenge was really fun. I was a bit annoyed that my boat sank but I loved making it anyway. Dame Bradbury's was brilliant."
What I found most challenging was when we had to make a boat. I think it was challenging because everyone wanted to have their ideas included."
I liked the ship building task because it was hard. Our ship survived for ten or nine seconds, then it sank."