Published on 23/01/18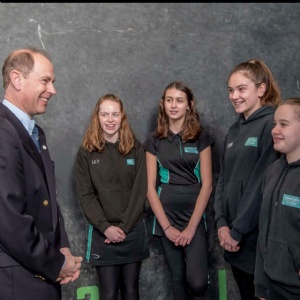 SPF students play Real Tennis with HRH The Earl of Wessex
On Thursday 18 January, our students were lucky enough to play Real Tennis with HRH The Earl of Wessex at the launch of a new Duke of Edinburgh's Award intiative at Cambridge University Real Tennis Club.
It marked an important day for the Duke of Edinburgh's Award as the Earl is attempting to play at every Real Tennis court in the world as part of the Tennis Challenge to raise funds that will enable more young people to get involved with the Duke of Edinburgh's Award. However it was also marked an exciting development for the Stephen Perse Foundation which has now become a Directly Licenced Centre for the Duke of Edinburgh's Award which you can read more about here.
A fantastic day was had by the students and they even featured on the Royal Family website! The Duke of Edinburgh's staff commented on the excellent involvement of everyone that took part. The day was a celebration of Real Tennis skills as well as the wonderful progress made by our pupils with their Bronze D of E Awards.