Published on 02/03/18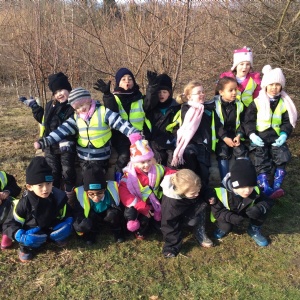 Our Pre-Prep children wrap up warm and explore nature this Spring term.
This term, Year 1 and 2 have been very busy up at 800 Wood in Madingley. Both classes have braved the cold weather, wrapped up warm and been searching for signs of spring. Year one spent their first session exploring boundaries and searching for different animals who live in the woods and seeing whether Trevor (the friendly Madingley troll) was under his bridge! They all came back very excited, looking forward to their forthcoming sessions.
Meanwhile, Year 2 finished off their Forest School sessions for the term being creative with natural objects. They have been looking at the artist Andy Goldsworthy and asymmetrical patterns in their dance lessons and from this, spent a busy morning in the forest, trying to create their own pictures and sculptures using different natural materials in his style. They finished up with some delicious, warming hot chocolate and a yummy biscuit!