Published on 12/03/18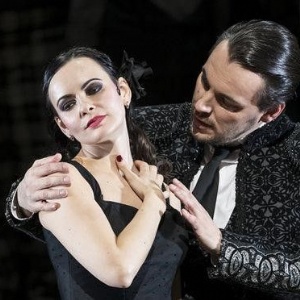 6th Form students enjoy a unique live performance of Bizet's Carmen
On Tuesday 6 March, the L6 Spanish and French students went to see Bizet's much-loved opera, Carmen, at the Light Cinema in Cambridge. For more than three hours, we enjoyed this unique live performance!
This brave and daring new production, which takes place in Seville, is far from traditional. The new interpretation showed magnificent voices, stunning choreography and superb black costumes, even a Gorilla suit! Bravo to Barrie Kosky who directed the production with a touch of humour even at the close of a dramatic ending. Un vrai coup de théâtre!
What did our students think?
Je me suis éclatée au cinéma le mardi en regardant Carmen! J'ai pensé que c'était une nouvelle production fantastique. La façon dans laquelle le réalisateur a changé la mise en scène traditionnelle et les costumes traditionnels et même la fin était très audacieuse! Aussi j'ai beaucoup aimé la musique intemporelle de Bizet. C'était génial pour mon premier opéra et j'irai certainement aux autres à l'avenir.
Phoebe L6
El martes pasado los estudiantes de español y francés fueron al cine para ver una proyección en vivo de Carmen del teatro de la ópera en Londres. La producción era my diferente que las producciones que he visto en el pasado, era modernísima y por eso tengo sentimientos mezclados sobre ella. El director eligió usar un escenario muy simple, tuvo sólo unas escaleras, en mi opinión, pensé que creó un ambiente intenso y misterioso. Por otro lado, a veces, era difícil imaginar las escenas sin mucha ayuda.
Me chifló la música y, como siempre, la orquesta era del más alto nivel. La encontré emotiva, todos los cantantes de ópera y otros músicos son muy talentosos.
Me gustó el final en particular, Carmen se puse de pie a pesar de que hubiera muerto justo antes de que las luces se apagaran por última vez. Pensé que el cambio en la historia era muy gracioso e ingenioso porque rompió el ambiente siniestro.
La ópera tuvo momentos extraños, por ejemplo, la llegada de Carmen llevando un disfraz de un gorila, ¡no es un traje típico de España! Pero en general, disfruté mucho la ópera.
Annabel L6