Published on 26/03/18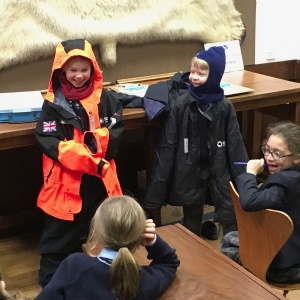 A visit to Antarctica... almost! Dame Bradbury's Year 3 pupils explore the Scott Polar Institute.
Year 3 had a fascinating finish to their Pole to Pole thematic learning topic when they visited the Scott Polar Research Museum in Cambridge.
Taken behind the scenes and into Antarctica, we accompanied three of Captain Scott's men on a six-week expedition to collect penguin eggs for research. We gained an insight into the grueling conditions endured by the early explorers - we didn't fancy their diet of crumbled biscuit cooked with lard and mustard powder!
We also learnt how modern scientists keep warm in Antarctica. Finally we explored the museum to discover the artefacts firsthand as we chose what to pack on our own polar sledge.
A wonderful day was had by all.