Published on 16/05/18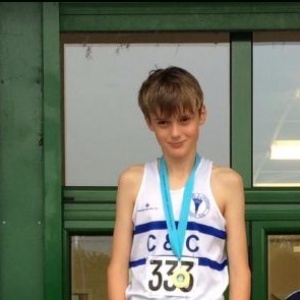 Storming home! Fantastic athletics result at the Cambridgeshire Track & Field County Championships
Twelve students from The Stephen Perse Foundation travelled to Peterborough athletics track to take on the best in the county at the annual Cambridgeshire AA Track & Field Championships on the 12th May. The team was on the younger side of the age group and for many they were competing for the very first time in an athletics meet - but they did not disappoint! The weather was favourable and the students more than exceeded expectations.
Isaac in Year 7 was aiming to retain his 1500m title and break his own championship record. He achieved both in the most incredible style! He led from the front and destroyed the opposition and broke his championship record by an impressive 8 seconds. Isaac is a true talent in the field of athletics.
Other successes went to Arabella who was just shy of a medal coming 4th in the U15 long jump. Delia came 4th in the U13 high jump and Owen achieved 5th in the U13 200m. Sophie threw impressively to gain 5th place in the U15 Javelin and both Arabella and Georgina came joint 5th in the U15 high jump. Gutsy runs by Iona and Millie in the U15 1500m led to 5th and 6th places respectively and Emily sprinted to 6th place in the U15 100m final. Bethany dug deep to achieve 7th in the U15 800m and Holly came 8th in the U13 100m final.
Six students impressively gained personal bests during the course of the day. These were; Iona, Millie, Holly, Delia, Bethany and Elif . Congratulations to all who took part in this wonderfully successful day!