Published on 23/05/18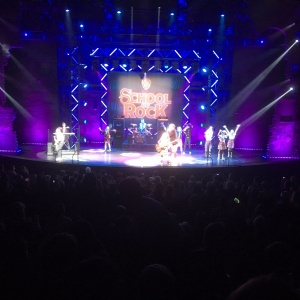 Please enter an introduction for your blog post here.
The School of Rock 'rocked!', was the general consensus by our Year 5 and 6s after their trip to the New London Theatre. You could be mistaken for thinking Dame B's had turned into a school of rock over the past term as our pupils readied themselves for The Battle Of The Bands Competition at school, but it was a real treat to be able to go and see the real thing, live in action.
It was an awe-inspiring opportunity for our pupils to see the show, especially watching the accomplished child musicians who formed the majority of the cast. The show itself was a rip roaring, belly aching, laugh a minute story line that saw the lead character teaching a class of pupils in a desperate attempt to make some money. With no teaching qualification he resorts to teaching the children the art of rock ...then the chaos ensued!
The coach journey back to school was far from quiet, with rowdy renditions of the big numbers keeping the bus rolling all the way to back to Saffron Walden.
We thoroughly recommend the show!