Published on 12/06/18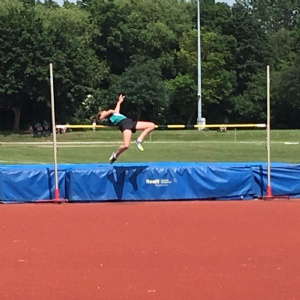 This season's athletics successes
East Area Prep Schools Championships
We took a talented and enthusiastic contingent of students to the EAPS Athletics Championships at Bedford International Stadium, this was the first time that we had entered these championships and the students exceeded expectations. The level of competition was extremely high but The Stephen Perse students rose to the challenge. The senior school team consisting of Emily , Amelia , Frankie , Iona , Arabella, Georgina, Sophie , Delia , Sophie, Holly , Katherine , Sadie , Owen and Isaac did themselves proud.
Notable performances came from Issac who led from the gun and raced against the clock to beat the East Area championship record and comfortably win the U13 boys 1500 metres. This result has secured Isaac a place at the Prep Schools National Championships in Birmingham on the 3rd July, we wish him all the best at this prestigious event
The U14 100 metre relay team consisting of Arabella, Georgina, Emily & Sophie A have been on form all season and they qualified with ease to the final. This proved to be a tight race and all performed to their best with great baton changeovers but they were just pipped on the line to finish in 3rd place, just missing out on a National place.
Sophie A also came 4th in the U14 Javelin and Emily qualified for the U14 100 metres final and came an impressive 5th place against a quality field. Iona produced a fine 1500 metre run to come home in 7th place with a new personal best time.
Well done to the whole team, it was a great experience and they all did performed to their best.
ESAA County Schools Athletics Championships
We had three Year 8 students who were selected to compete for the Cambridge District at the County Schools Athletics Championships at Peterborough. They were Iona Cunningham in the 1500 metres. Arabella in the long jump and high jump and Georgina in the high jump and relay. All performed superbly against strong competition and they can all compete in the same age category again next year so to be selected a year under is fantastic in itself. Results are as follows:
Georgina 4th - High jump, 4th - Relay,
Arabella 5th - High jump, Long jump
Iona - 5th 1500 metres