Published on 04/07/18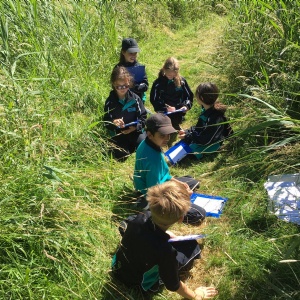 Wonderful sunny visits to the nature reserve with an 'unofficial special guest'!
The recent amazing summer weather has provided perfect conditions for this term's visits to the Nature Reserve by Junior School pupils. Year 6 have rounded off a series of visits, in which they have been able to experience the changing seasons and their effects upon the living organisms which make their home there. The pupils have had opportunities to explore a variety of land and water habitats, as well as taking careful measurements of temperatures and key indicators such as pH around the reserve. It has been truly inspiring to see the enthusiasm of our young naturalists, who have proved to be intrepid in searching out their findings, with an often passionate level of focus, while bearing in mind the importance of operating safely and sensibility in a field environment.
Our even younger naturalists in Year 4 have also visited the reserve, with each class spending a morning identifying invertebrates under the trees, in the pond and down in the flood meadow by the River Cam. There was a buzz of excitement around each activity, with the pupils showing huge interest in trying to identify their finds, with highlights including a ferocious dragonfly eating a stickleback fish, a seemingly endless supply of worms in the soil, an 'unofficial special guest' appearance by a tiny frog - a vertebrate, therefore not on the identification list! The pupils all showed huge enjoyment on these trips and I am sure we have whetted their appetite for more to come when they move up to Year 6!
by Mr Gordon West