Published on 29/10/18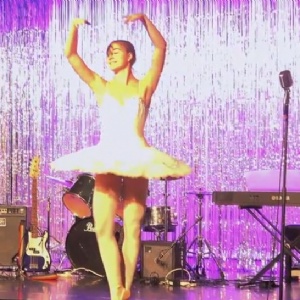 On Friday 12 October, the Senior School Hall was transformed into a sparkling cabaret venue with fairy lights, candles, light up cubes and a very glittery mirror ball.
Audience members relaxed at tables with a glass of wine or a fruit cocktail with bowls of crisps and chocolate on the tables. Backstage crew members ran around frantically, finishing off the last minute touches and making sure everyone was ready. Backstage, the acts were all getting ready for their performance and applying glitter to each other to fit in with the theme: Sparkles and more Sparkles.
The audience were treated to an amazing showcase of different talents. We had acts including singing, dance, a jazz trio, live bands and spoken word and everyone's performances stunned the audience again and again. Also our compères Maddy and Lucy gave the audience a brilliant comedy sketch between each act, lightening everybody's mood. During all the performances, the fabulous technical team worked the music and the lights. There was a multitude of different coloured spotlights, and when the mood was fitting, the glitter ball was used to set the scene even further.
All proceeds from the evening came to a tremendous amount of £371.86 which will go to our chosen charity- the National Deaf Children's Society. The National Deaf Children's Society is a wonderful charity that helps raise awareness about deafness across the U.K. to help teachers, parents, friends and family alike to understand how to support the deaf children in their community. The charity also offers amazing opportunities for the deaf children to meet and do all sort of workshops to help build their confidence and skills for the future. If you would like to look into the charity in more detail, here is the link: https://www.ndcs.org.uk/
Throughout the Cabaret Mrs Foote recorded everything on camera including behind the scenes during final rehearsals! Mrs Foote has then created a brilliant showreel of the Cabaret with Maddy Anderson's beautiful rendition of ' A Natural Woman' playing over a combination of all the acts including the speeches. You can find a link to this showreel at the end of this article - hopefully you will all enjoy it too!
So once again, a huge thank you to all our performers and those who helped out backstage. We also want to thank all the teachers for their help and support in helping run this event. On behalf on the Cabaret Committee, I would also like to thank Ms Barrell for helping lead the committee and helping make it all happen in the first place as well as ensuring it all ran smoothly.
---
Written by Holly P, representing the Cabaret Committee