Published on 09/11/18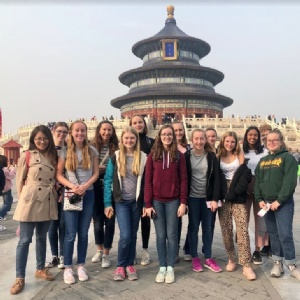 Scaling the Great Wall, making Chinese dumplings and bagging a bargain in Chinese all featured in the Year 10 and 11 language and cultural immersion trip to Beijing in October.
The ten day programme in China's capital was packed with language classes, cultural visits and performances and gave students a chance to practise Mandarin out and about with local people.
Described by students as 'a once in a life time experience' and 'an amazing trip', they were able to understand the context of the language they are learning and gain a deeper appreciation of the culture.
Here are some extracts from students' daily blogs to give a flavour of the trip.
Friday 19th October
This morning we went to the Hutong language school and learnt vocabulary about bargaining and clothes. We also visited Tian'anmen square and many Chinese people took photos of us as we were walking through the streets. We felt like celebrities! We then went on to visit the Forbidden City. In ancient times it was the Emperor's city, forbidden to the public (apart from a couple of occasions each year). It also has 9,999 rooms, one less room than the Jade Emperor, God of Heaven, as a sign of respect. The colours in the Forbidden City were very beautiful and bright and the patterns were incredibly intricate. We ate lots of traditional Chinese dishes, including stir fried rice, duck pancakes, and noodles.
Charlotte, Verity and Nina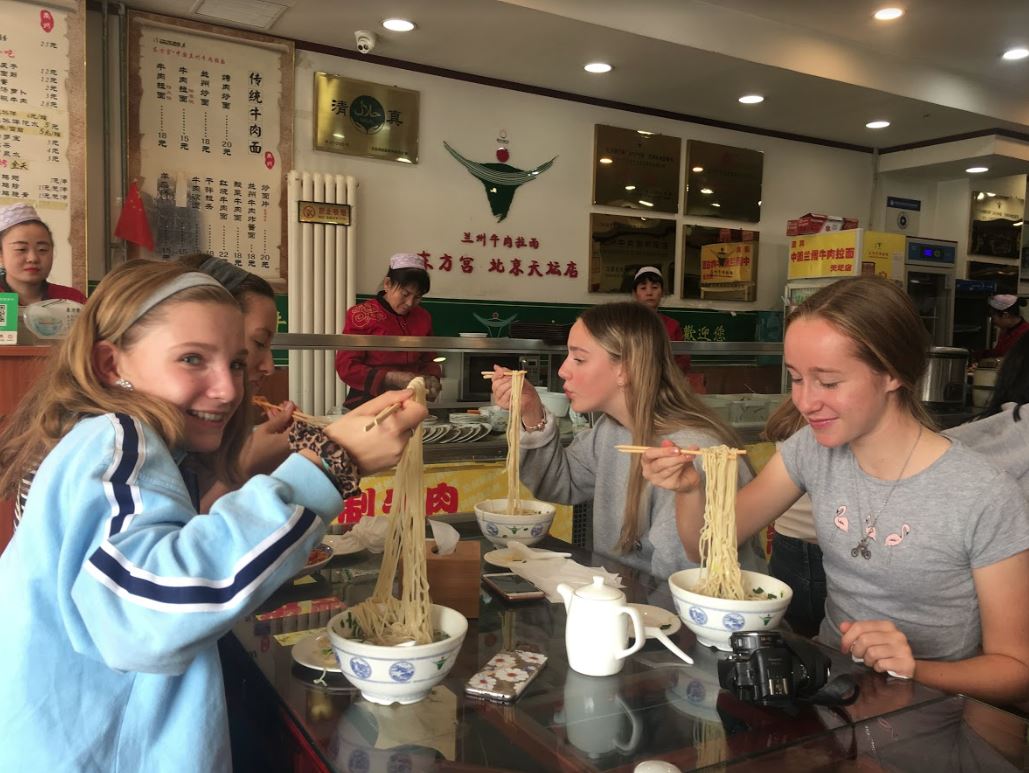 Saturday 20th October
We went to the Great Wall of China today! It was amazing, the air was so fresh and the atmosphere was much more peaceful compared to the city. Parts of the wall of China were built over 2000 years ago, but we walked along a part that was built during the Ming Dynasty, 600 years ago. The section of wall we went to was much less crowded to avoid the tourists, which meant that it was more relaxing because we could go our own pace and stop for photos (of which we took many!).
Bethany and Lily S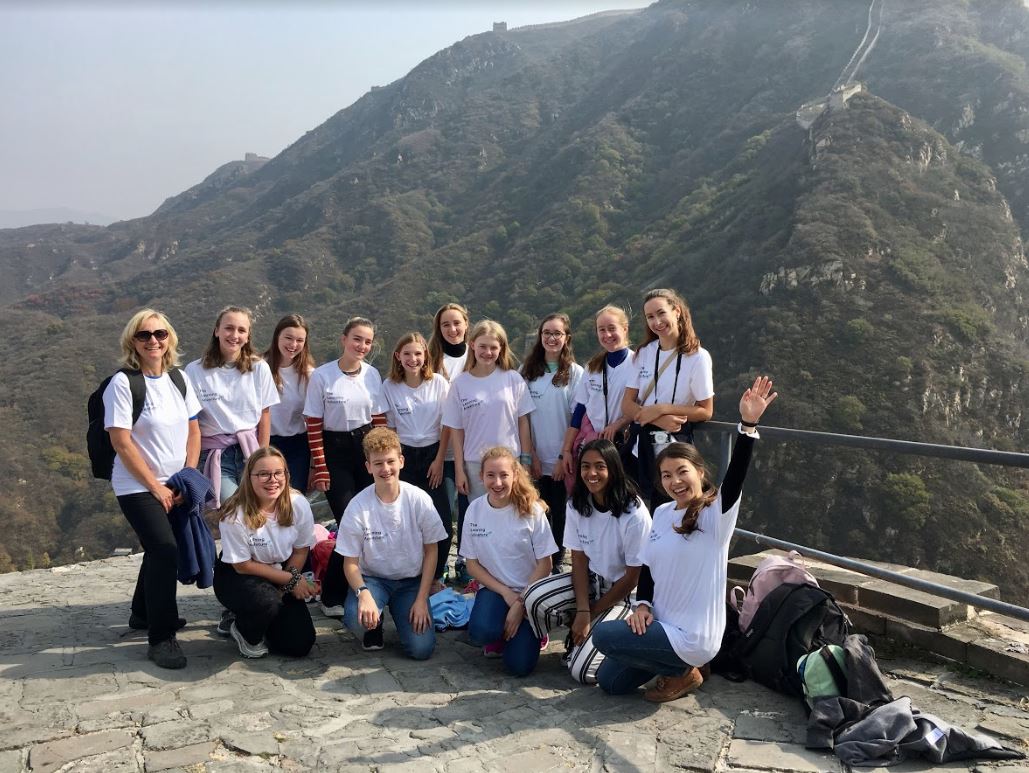 Sunday 21th October
Today, we had a rickshaw tour of old Beijing the Hutong area, which gave us an interesting insight into how the old houses were designed and what life is like there, (although we were slightly upset when our guide was not impressed with our attempts to speak Chinese). We then had lunch at a woman's house in the Hutong, whose family business was to paint the inside of glass ornaments. This skill had been passed down through 4 generations. We then went to the Lama temple where we saw the biggest standing statue of the Buddha, made from a tree. In the evening, after a nice dinner and some shopping, we saw an amazing Kung Fu show.
Elizabeth & Amy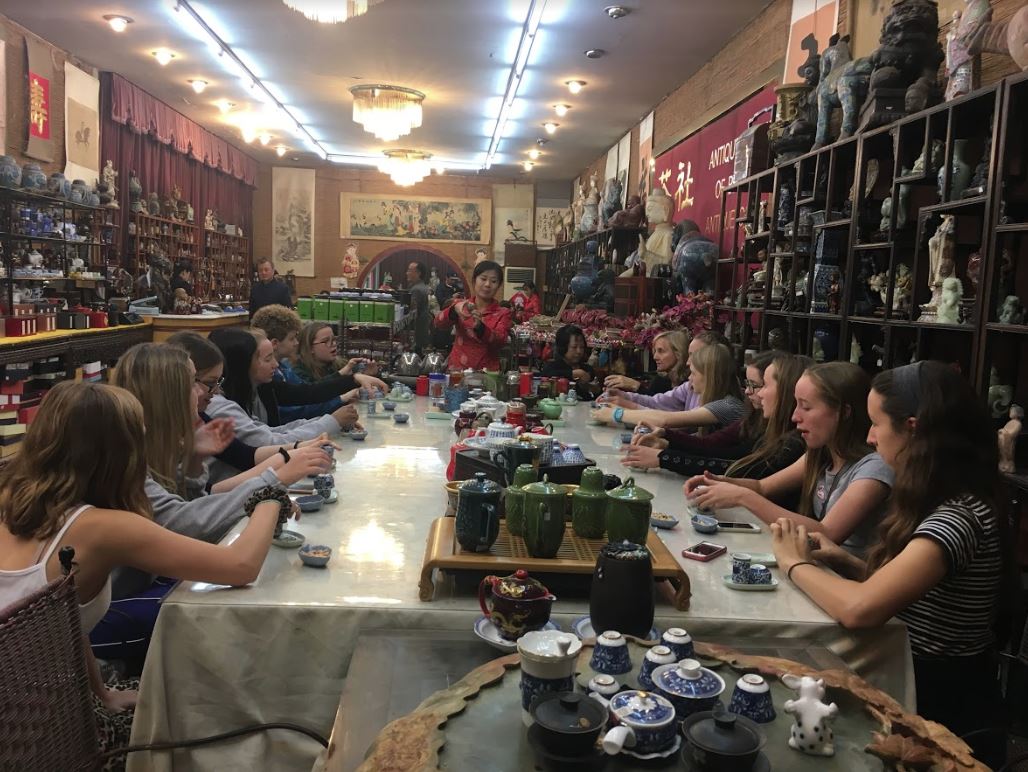 Monday 22nd Oct
This is our fifth day in China. So far this trip has been amazing. Everyone is so kind and caring. The food is delicious. Soon after our morning language lesson, we had lunch at a place called the Beef Noodle Restaurant; it was delicious but very filling. Next we arrived at the Temple of Heaven it was quite crowded and people kept coming up to us and taking photos, at times it got extremely crowded but although it was stressful it was also exiting. This was where the Ming and Qing Emperors offered prayers to Heaven for a good harvest. In one section called the Imperial Vault of Heaven there is a specially designed 'whispering wall' where we divided into 2 groups and tried out an early form of wireless communication! Then we went to a tea ceremony where we sampled oolong ginseng tea, pu'er tea, black lychee tea, jasmine green tea and fruit tea. Most people's favourite tea was the oolong ginseng tea.
Kim & Molly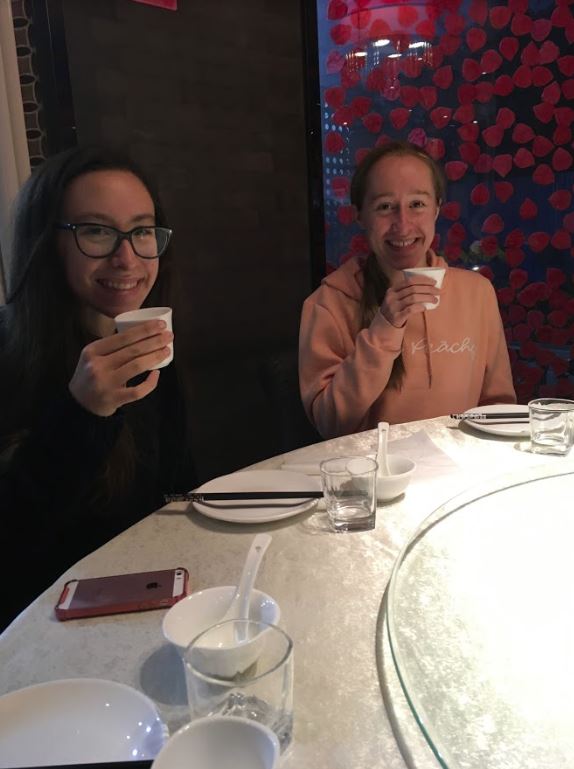 Tuesday 23rd October
Today, instead of going to our Chinese class, we drove to a migrant school called the Dandelion School, where children whose families have moved to Beijing can receive education through charity, as the Chinese system means they can't attend state schools due to residency issues. We proceeded to play games and speak English with groups of enthusiastic and friendly children and also managed to practise some Chinese. We ate lunch at the school where we were impressed by the self sufficiency of the students as they served us rice and beef then did the washing up afterwards. They work together to clean the classrooms three times a day as there are no cleaners. ….At dinner we enjoyed a traditional chinese hot pot where we could cook our own meat, noodles and vegetables. We then headed straight to an acrobatics show, which kept us on the edge of our seats.
Su & Rachel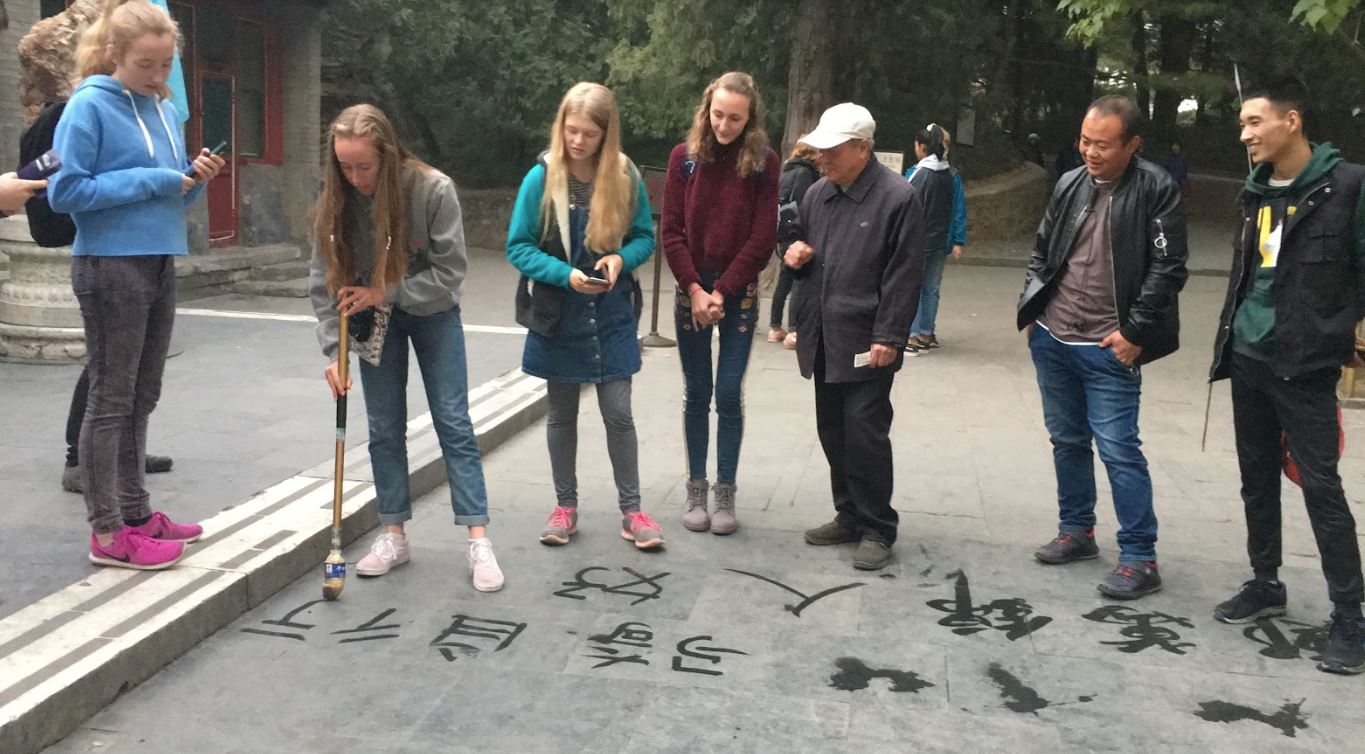 Wednesday 24rd October
...After lunch we went to Jingshan Park, where we climbed to the top of a man made mountain and got an incredible view of Beijing and especially the Forbidden City. Next, we went to a Chinese cooking class where we made dumplings and learnt how to wrap them in three ways: easy, fancy and dificult! We then ate them and also had more Gongbao chicken (one of our favourite dishes).
Lily H and Hattie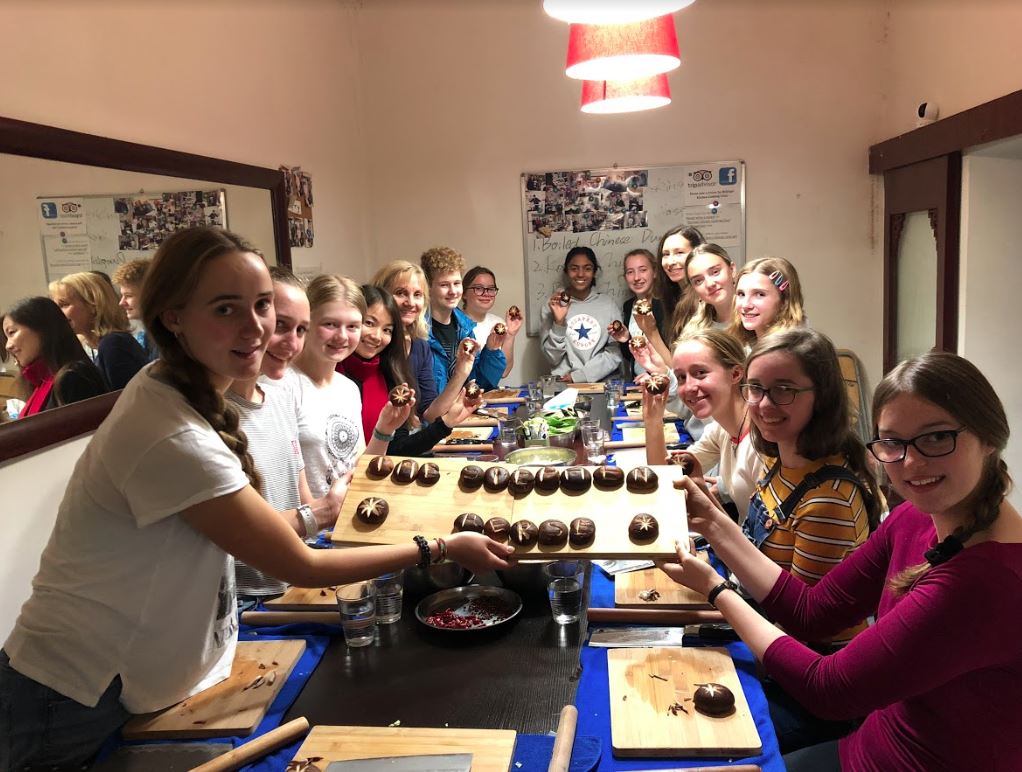 ---
To find out about upcoming trips and events across the foundation, have a look at our school calendar.