Published on 17/07/19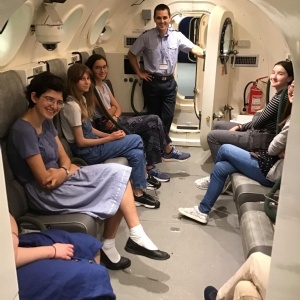 A group of our students from Years 9, 10 and 12 went to RAF Henlow, Bedfordshire to see the base which is the main centre for conducting aviation medical research in the UK.
The students were shown a hypobaric chamber, which enables doctors to study the effects of uncontrolled decompression in the event of cabin pressure failure. They were also shown how they measure the effects of hypoxia and G-Force on pilots, and a few of our students were even allowed to experience the flight simulators! The group then looked at the design and engineering of aircraft and the equipment that RAF personnel have to wear in order to keep them safe. The trip was very educational, fun, and was enjoyed by all.