Published on 18/07/19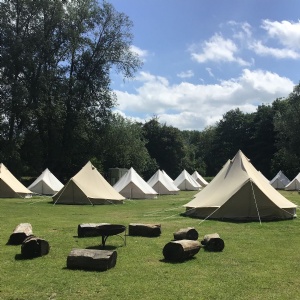 Early on 17 June over 100 freshly washed and excited pupils piled onto the coaches which took us to the deepest, darkest part of Essex to camp out in the wild without the aid of duvets or WiFi. Three days later, everyone returned - even the teachers - but ever so slightly smellier and more tired than they set out!
When we arrived we were welcomed by the sight of an assembly of spacious bell tents, hay bales and the most beautiful lake and forest surrounding us on all sides. Maybe this wasn't going to be so hard after all…
Our ESOC team welcomed us and talked us through the days' events which were to include canoeing, fire building, bread making, axe throwing, knife skills, archery, archery tag and trebuchet construction. This was topped off with games in the woods followed by hot chocolate around the campfire: the carousel of activities wore the students out and sleep did eventually come - accompanied by the strange chorus of baby tawny owls in the trees around us.
The second night treated us to an amazing thunderstorm (which many of the boys reported not to notice at all!) but the sky had cleared for our third day's activities and it was mostly beautifully sunny until early evening.
The students looked exhilarated by the water activities - which included sliding down an up-turned canoe head first into the lake. It was great to see the pupils at ease with each other as they ate lunch on hay bales or practicing their slack-lining skills on a tie that had been left between two trees for the duration. We lost a few of the pupils up said tree as they headed skyward, remembering that they were 7 years old once. In fact, it was lovely to see the students regress slightly in their downtime, enjoying cartwheeling, chasing each other and playing games.
As we were leaving, awards were given out by the ESOC team for acts of bravery, friendliness, resilience and helpfulness - qualities which we recognise in all our students but were never more evident than on this residential - it truly brought out the best in them all.
May I take the opportunity to thank Mrs Naylor, Ms Colaco, Mr Hunt, Mr Walker and Mr T Williams for accompanying us and being such great fun.
Mrs Blanchard
Pastoral Leader Year 8