Published on 22/10/19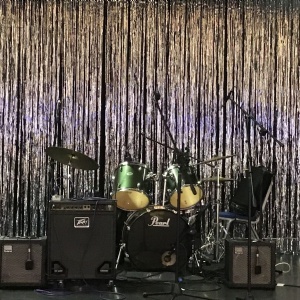 Our annual sixth form cabaret took place on Friday 11 October. The hall was transformed into a glittering jazz bar with fairy lights twinkling and candles flickering on red velvet tablecloths.
We were delighted to welcome performers from across the whole Sixth Form, alongside some guest performers from Year 11. Most of them dressed to reflect the theme of 'A Splash of Silver' and all of them showcased a wide variety of talents - from classical piano and live rock bands to comedy sketches and tap dances, audiences were thoroughly entertained.
The cabaret was planned and organised by Florence, Year 12 and Roxy, Year 13, both of whom also took part as performers; our compères were Sara, Year 13 and Meghana, Year 12.
The evening raised just over £400 for the charity Young Minds.
We would like to thank all of the performers who took part in the event and the senior and sixth form technical crew who helped out on the night.