Published on 13/11/17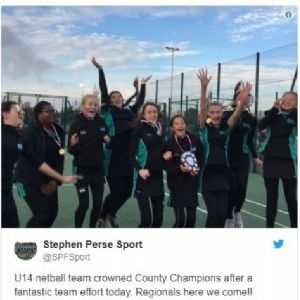 Our netball teams secure two places at Regionals in January 2018!
Our U14 and U16 netball teams played in the County Finals over the weekend and both put on fine performances. The U16 tournament was a round-robin format so they played seven teams and lost only one game by one goal! This meant that they were runners up and gained a place in the Regional tournament.
The U14 competition was in two pools; we made it through to the semis and then on to a nail-biting final that saw us go ahead and then behind, but sheer determination and some excellent decision-making led us to victory and being crowned County Champions, joining the U16s at regionals in January.
Congratulations girls!