Published on 04/11/19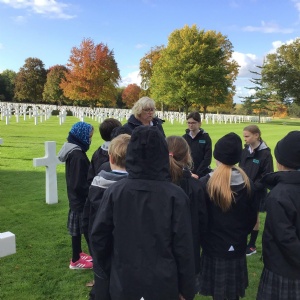 On the sunny yet chilly Tuesday afternoon of 29 October, Year 6 visited the American Cemetery in Madingley.
The outing started with the pupils considering the different sections of the Wall of the Missing, the sections that represent the Army, Navy, Air Force, Coastguard and Marines. Nina said that "it was surprising to see how many names there were on the Wall of the Missing." The pupils quietly contemplated the tall, impressive statues standing sentinel before being sent off in search of the names of servicemen and women who had fallen.
Next, they were asked to remember those unknown soldiers, those comrades in arms, who are buried in the beautiful cemetery grounds and were then shown how the Stones of Remembrance are readied for visitors with sand from Omaha Beach and with flags.
Year 6 went to the Chapel to see the maps found there, that display so much information, and to think about all that it represents before finding out more about the Cemetery by exploring the Visitor Centre. Vicky thought that "it was an inspiring trip to see what people did to take part in the war effort."
Overall, the afternoon was thought-provoking and informative and a very effective way to introduce our new topic, Sticks and Stones.