Published on 22/08/18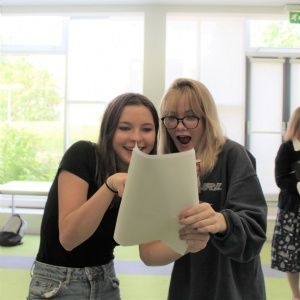 It's another successful GCSE year at the Stephen Perse Foundation, with 81% of entries graded A* or A (or 9/8/7 in the new grading system).
We are renowned for achieving excellent results by encouraging young people to become independent thinkers. Our students experience a broad, progressive curriculum and this year's results are testament to the success of this approach.
Headline figures
57% of all grades were A*/ 8-9
15% of students achieved 10 or more A*/ 8-9 grades
81% of all grades were A* or A / 7-9
100% of students achieved 5 A*-C / 4-9 grades
David Walker, Head of the Senior School, comments: "It's been an absolute pleasure to teach this talented group of students. Their stellar GCSE results are a testament to their hard work and commitment - as are their achievements in the world of sport, drama, music and the arts. My congratulations to our students, and to the brilliant teaching staff who have given such inspiration and guidance along the way. Well done everyone!"

Students can now look forward to furthering their education, with almost half of this year group joining the Stephen Perse 6th Form in September. Looking to the future, Naomi Atkins, Head of 6th Form and Vice Principal of the Foundation, said: "I am confident that our students will make a real difference and lead the way in whatever field they choose. I look forward to seeing many of them in September when they begin their A Level or IB studies at the 6th Form College."
For us, education is not just about grades. It is about strength of character, a sense of social responsibility, learning to innovate, communicate and collaborate. We are proud of this year's GCSE students not only for their results, but for the breadth of skills they have developed and take with them into their 6th Form studies and beyond.
Congratulations to all!
---
More about the new 9-1 grading system
Note that the new 9-1 grading system is in place for some of this year's GCSE qualifications. For the purposes of reporting on results as a whole:
A score of 9 or 8 is broadly equivalent to an A*
A score of 7 is broadly equivalent to an A
A score of 6 or 5 are broadly equivalent to a B
A score of 4 is broadly equivalent to a C
Still confused about the new 9-1 GCSE grades? There is some more useful information on this page.