Published on 11/11/19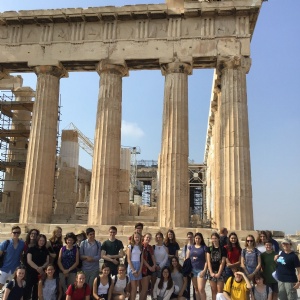 The half-term Classics trip to Greece was a wonderful opportunity to see the world we had
been studying come alive.
We started out in Athens, with a trip to the Acropolis and the major sites around it, including the ancient agora where Socrates taught and was put to death. We were able to stand in the Theatre of Dionysus, the birthplace of tragedy, and visit the renowned Parthenon, the symbol of the Athenian Golden Age.
In the museums we saw the arrow heads discovered at Thermopylae, where the Persian volley against the Spartans had famously 'blotted out the sun', and we saw the gods fight the giants on the Parthenon marbles, including the unexpected sight of Poseidon striking a giant on the head with the island of Nisyros.
Delphi, in the mountains, was a quieter and more secluded version of ancient Greece, with its mystical rites and temples. A true highlight for many of us was the time we spent in Mycenae, immortalised by Homer's tales. The city walls towered over us, built by the legendary Cyclopes, with the tomb of King Atreus an impossible wonder of ancient architecture. Even for those of us who had visited Greece before, it was a truly enlightening and enjoyable trip to the heart of the ancient world.
Written by Year 12 Constantine T.