Published on 11/11/19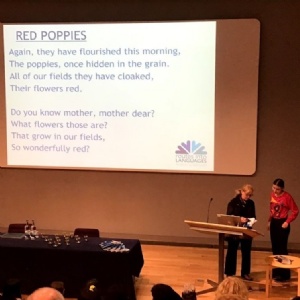 On 16 October, a handful of senior and sixth form students attended the "Routes into Languages East" Mother Tongue Competition Celebration Event at the Murray Edwards College as part of the Cambridge Festival of Ideas.
This is a competition run every year by Sarah Schechter, a linguist from Cambridge university, for students writing in their home languages. Both independent and state schools in the East and South East of England took part in this celebration of multilingualism.
We had 7 shortlisted candidates, all of whom received certificates and whose poems were published in this year's "Mother Tongue" book. Out of our 7 talented pupils, 3 of them won with their fantastic poems.
Congratulations to all 7 of our pupils:
Mila R - Y12 (Winner)
Maggie H - Y9 (Winner)
Sammy B-D Y10 (Winner)
Sophie M - Y11
Oliva B-C - Y11
Zabeetah I-S - Y9
Rosa I - Y9