Published on 22/03/18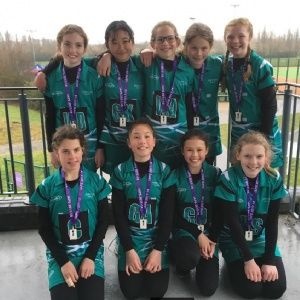 Our Year 6 netballers had a fantastic experience at the National Finals of the IAPS U11 Netball Tournament in Basildon on 9 March 2018.
The reward for winning the regional round of this year's IAPS U11 Netball Tournament was a place at the National Finals. With 243 schools entering the tournament across the country it was a great achievement to get this far, and the girls travelled down to Basildon full of anticipation and excitement.
As you would expect, the standard was extremely high and it was clear that there were not going to be any easy games. With nine teams in our pool we played with tenacity and determination throughout to record some good results.
The pressure increases at this level and every move, pass and shot counts. Our shooters had a challenging day against some very good defences and in a game where the momentum of the scoreboard is crucial, we found ourselves on the losing end of some tight defeats early on. We grew in confidence and won two games before drawing in a thriller with Bromsgrove Prep, but it wasn't enough to see us through to the afternoon.
The day ended on a high as the girls received their regional gold medals and were very happy to think that there were not many other schools present that day who had also been to the Hockey National Finals earlier in the year!
Well done girls, we are really proud of you.