Published on 18/10/19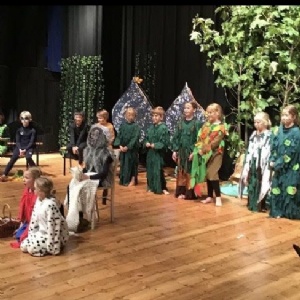 On 16 and 17 October, Year 4 took to the stage to perform what can only be described as a spellbinding and hilarious twist on the classic tale, 'Little Red Riding Hood'.
Set in a leafy forest, home to the good and bad animals, Little Red Riding Hood tried her best to keep to the path leading to Grandma's house, undeterred by obstacles thrown her way by the wolf. Pupils rehearsed and put the production together in a mere six weeks. Faced with having to learn a number of complex, mixed harmony songs, pupils excelled hugely and demonstrated considerable passion. Finally, they combined their love of theatre and music into a creative extravaganza full of characterisation and enthusiasm. Well done, Year 4 – an exciting year ahead!