Published on 13/11/19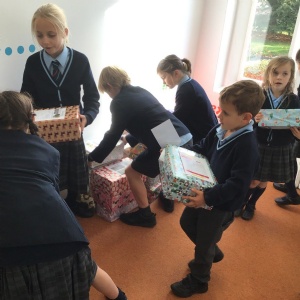 Social responsibility was at the forefront recently as pupils at Dame Bradbury's supported the charity 'Link to Hope' again this year. Children brought in a wrapped shoebox filled with a number of essential gifts to send to families in Eastern Europe.
Link to Hope's aim is to combat poverty and give humanitarian aid to the most disadvantaged – especially people struggling to survive in poor villages that lack basic amenities. The charity's vision is that one day every person in Eastern Europe will have a safe environment to live in and access to basic healthcare, human rights, employment and education.
Members of the School Council helped count and sort the boxes ready to be sent over to their warehouse. A huge thank you to everyone involved.