Published on 14/10/19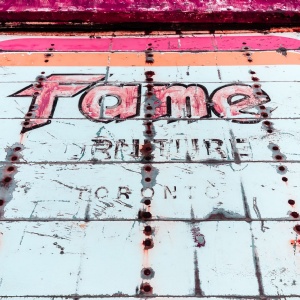 Recently, I have been to see an amazing musical called Fame! (yes, i think that the exclamation mark is included in the title- and I see why). It is an astonishingly realistic (mostly) portrayal of how performing arts schools are not as perfect and simple as many believe. In the year prior to the one this story walks the audience through, 1000 people tried to get a place in the school, and 95 were chosen. After the tough and unlikely competition to get into the school in the first place, we face many broken dreams, cheating in lessons, a case of dyslexia and a young, innocent girl dropping out of school to travel to LA at the start of her supposed singing career. After they graduate and the majority of them sign record deals/achieve fame in acting or dancing, the dropout, still so naive, travels home, begs her band to have her back (they refuse but she wrote many songs for them) and then dies from drug overdose. Yeah, I did say it wasn't all perfect. Here are the top 5 things I personally love/ respect about Fame:
The title song. It's amazing. It's just so catchy, and so ironic (Fame! I wanna live forever, sung by the girl who dies at 23).

How they kill off Cameron Diaz. I'm not saying I wanted her dead. It's just that I understand how they wouldn't have an excuse to make it 10+ if no one died, even though Cameron Diaz is still alive today, and is possibly offended to be portrayed as a sad, naive girl who was stupid and reckless enough to die at such a young age.

The stunning yet sad relationship between Tyrone and Iris. Tyrone is a dark skinned young adult who comes from a rough family, who is found out to have dyslexia. Iris is a blonde young ballerina, who, later, is found out not to be as rich and perfect as first assumed. Both gifted dancers, when they are paired together for a recital, they get to know each other, and briefly become an item. Until, of course, it is discovered that Tyrone has been cheating off her, because he can't actually write properly himself.

Altogether, the journey all these talented adolescents go through. For example, Mabel. She goes from clowny and food-obsessed, to a capable, friendly actress who is, temporarily, capable of keeping a relationship going. In my opinion, it is just wonderful how they show you how some of the greatest stars, and what they could have done before they hit fame. It gives you a pang of affection towards these naive superstars.

The inaccuracy. Yes, I know I've been going on and on about how Fame shows the world the exposed, nitty-gritty of performing arts schools, and that is true in a sense. The inaccurate part of this show, is that 4/5ths of the characters do not exist, and the ones that do exist, famously or not, are horribly wrongly depicted.