Published on 31/01/20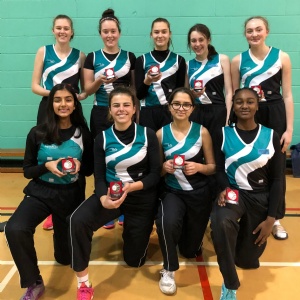 The Stephen Perse Foundation (SPF) have gained success with their Under 16 Girls Netball
team who have, for the first time in the school's history, qualified for England Schools
National Finals.
After winning the County tournament, the team secured their place in the National Finals by reaching the Final of the Regional round. This is the first time a Cambridge school has got to the National Finals in this age group. The SPF U16 team are even more remarkable as all players are under 15 and competed in the tournament against older girls.
The National Schools Competition, run by England Netball, is the biggest schools competition in the netball calendar. The competition consists of three age groups; U14, U16 & U19 and commences at either an Arena or County Round. To earn a place at the prestigious final is testament to the skills and hard work of the team. Charlotte Wells, Director of Stephen Perse Sport said: "To win the County round was exciting, and the girls played incredibly well at the Regionals last Saturday, winning every
match to qualify for the semi-finals. This team played their best netball ever in that match
and won the game convincingly."
"We are so proud of these girls," Charlotte continued. "They have worked so hard; at morning sessions, at lunch times and after school. Their success was thoroughly deserved."
The winners and runners up from each of nine regions take their place in the National Finals.
The 2020 National Schools Finals will take place at Stanborough School, Welwyn Garden
City, on Saturday 14 March.

The success of SPF Netball was not confined to one age group. We represented
Cambridgeshire in every age group, as follows:

U14 County Winners
U19 County Runner's up