Published on 01/10/20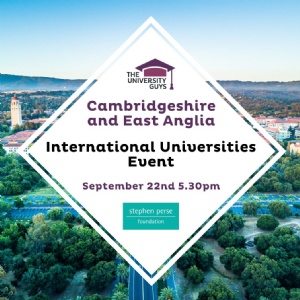 Over the last few years we have been pleased to welcome representatives from a large range of international universities to events at our old Sixth Form site. Last year we also had over 100 students and parents from schools across Cambridgeshire attend some of these conferences.
With no physical visits and meetings taking place this term, we arranged an online conference working in partnership with David Hawkins of The University Guys which took place this Tuesday 22nd September.
With panellists from Duke University in the US, Concordia in Canada, Dublin, Tilburg in the Netherlands and Carl Benz University in Germany, it was a wide sweep of international destinations teaching undergraduate courses in English. Being a virtual event we were also able to open the net a lot wider and invited schools from across the East Anglia region, with in the end students and parents from over 20 schools across 5 counties taking part.
For more information on how Stephen Perse supports our students applying to international universities, please contact our Head of International Applications, Dr Mark Woodward at msw@stephenperse.com.