Published on 07/12/20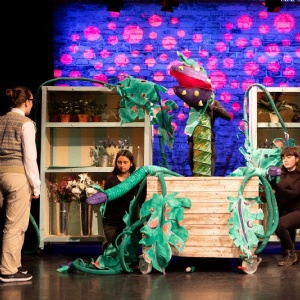 In the last week of November, our Year 10, 11 and 12 casts gave truly fabulous final performances of their extracts of 'Little Shop of Horrors'. We are so, so proud of all the performers, musicians, crew and creatives who have worked with such enthusiasm throughout this challenging term and who have together achieved such amazing results.
The final performances were an absolute joy to watch!
Mrs Foote is working hard to edit the films which we will be sharing with the casts and their parents in due course. In the meantime, I am delighted to share some of the fabulous production shots from each of the different performances along with a digital programme. Please do take a moment to look through these to appreciate just how much work went into making this very unusual, and very special production happen.
Digital programme
Year 10 production
Year 11 production
Year 12 production
Year 13 production