Published on 03/08/21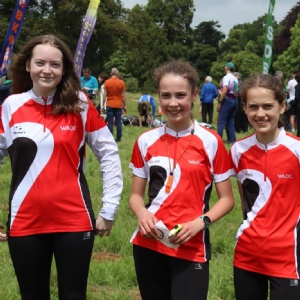 Last month three of our students, Year 11 Jemima, Year 10 Sophie and Year 8 Eleanor, represented the West Anglian Orienteering Club (WAOC) at the Yvette Baker competition, the national inter-club junior orienteering competition, where their team came joint 6th, beating their local Norfolk rivals.
We spoke to Jemima who told us more about how she got involved in the sport and how she found the competition.
What orienteering club do you represent?
We represent WAOC, which stands for West Anglian Orienteering Club. It covers all of Cambridgeshire, as well as nearby areas in Bedfordshire, Essex, Suffolk and Hertfordshire.
How long have you been involved in orienteering for?
Personally, I did my first course when I was around three, but I didn't do the courses on my own until I was about nine as before that I was going round with someone, or being 'shadowed', which means that a parent or another adult follows you from a distance to make sure you're okay. I have done it most often in the last five years and I usually do at least one event every month or two.
What do you like about the sport?
I like how it makes running less boring as going for a run isn't that interesting or motivating for me, however orienteering makes it more exciting as you are competing against people as well as finding controls along the way.
How many teams took part in the Yvette Baker competition?
All English and Welsh clubs took part in a number of heats in their local area with the winning clubs qualifying for the national final. WAOC qualified in the East Anglian heat in March 2020, but the final was postponed due to covid until this year. In total, 17 teams took part in the final - there were 12 teams in the 'Trophy' division of the competition, which is for the big clubs; and there were five teams in the 'Shield' division of the competition, which is for the smaller clubs. The final was held near Bristol at the National Arboretum at Westonbirt. Finalists travelled from all over the country including as far away as the Lake District, Durham and Norfolk. The competition is named after Yvette Baker, Britain's first World Orienteering Champion who won Gold in the Short Distance event in Scotland in 1999.
How does the competition work?
In orienteering, you compete against the clock to find a number of waypoints, known as controls, in order using only a map and compass. You cannot use GPS for navigation! You do not start at the same time as someone else on your course, so you are never running directly head-to-head. You do not see the map until after you have started the timer, so you need to make quick decisions. Timing is recorded electronically at each control using a timing chip, known as a dibber, to ensure you got all the controls in the right order. It also means you can compare your overall time and times for each leg afterwards.
For the Yvette Baker final there were four different courses ranging from a short, easy course of 2.9km and 16 controls through to a longer, hard course of 5.1km and 12 controls. This meant that children of all ages up to 18 could take part. For each course, gender and competition division (Trophy/Shield), the fastest runner got 100 points, the second 99 and so on. As a whole club, the top nine scores counted (for the Trophy) or the top 5 for the Shield. As only a certain number of people could score on each course, you needed a team with a good spread of ages, a mixture of boys and girls and not all just run the easiest course.
I thought the competition had a good atmosphere and although it was a competition, I didn't feel pressurised about doing well, probably because we were a team so everyone helped us and it wasn't all on one person. It was also a nice area as it was held at the Westonbirt Arboretum in Bristol which is similar to the Botanic Gardens in that it has lots of unique flowers, trees and greenery, so it wasn't just running around a forest. The course also wasn't too hard, which meant that I didn't waste lots of time trying to figure out my next route or worry about getting lost.
A huge well done to Jemima, Sophie and Eleanor for competing, and we're sure we'll see more great orienteering results from them in the future!