Published on 19/11/21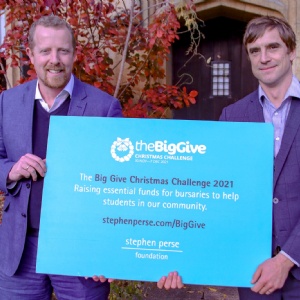 This week, the Stephen Perse Foundation is pleased to be supporting the Independent School Council's (ISC) Partnership Week, by celebrating our partnership with North Cambridge Academy (NCA).
The partnership between Stephen Perse and NCA was formed in 2019 with the vision of a long-term collaboration designed to benefit students in both schools, as well as the wider community, and use the power of education to drive change and equip young people with the skills they need to take on the big world challenges they will inherit. While also inspiring and preparing all the young people we work with, to use their education to serve society and improve the world, and perhaps even to enhance humanity.
Our Founder, Dr Stephen Perse, born in 1548, was an academic and philanthropist. He believed that education should be a right rather than a privilege, accessible to those with ability and potential rather than dependent on income. This remains an important priority today with the relationship between Stephen Perse and North Cambridge Academy growing ever stronger.
In recognition of the impact the global pandemic has had on widening the inequality gap and access to educational opportunities, Stephen Perse increased the 100% bursary places to the sixth form to deserving and talented young people from NCA from three to six this year.
The first cohort of students through this programme completed their A levels in July 2021. Between the three students they achieved 11 A levels with five at A* and two at A. One of the students has gone to study at the University of Bath to read Physics with a year abroad and the other two students are applying to university this year. These excellent results demonstrate the outstanding benefits of this programme and significance of our intervention at a critical time in a young person's education.
To continue with our ambitious plans to make a step change in tackling inequality in the region and create educational pathways for talented young people within our community, Stephen Perse is taking part in the Big Give Christmas Challenge 2021 to raise £20,000 in just one week between 12 noon on 30 November #GivingTuesday and midday on 7 December. These funds will be used for life-changing bursaries for students from NCA and the wider community to attend the Stephen Perse Sixth Form. Donations made via Big Give website will be doubled! One donation TWICE the impact.
Hear directly from the students who benefit from our bursaries and the impact it has on their lives HERE
To find out more visit stephenperse.com/BigGive