Published on 13/11/21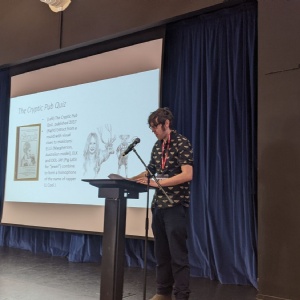 Students in years 10 and 11 attended an interesting Inspire and Guide talk by Frank Paul.
Frank Paul was born in London in 1984 and brought up in Cambridge. Having studied Arabic and Islamic studies at Cambridge University, he went on to become an artist, specializing in surreal and intricate biro drawings, and grew increasingly interested in quizzes.
Since 2015, he has been presenting the pub quiz at The Mill in Cambridge. He was a member of the Escapologists, the champions of series 13 of the BBC quiz show Only Connect, and appeared as a "trapper" (a resident quiz expert and question-setter) on the Channel 4 quiz show The Answer Trap. He is the author of two illustrated quiz books, The Cryptic Pub Quiz and the forthcoming The Twelve Quizzes of Christmas.