Published on 13/04/22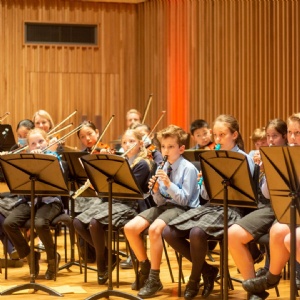 On Friday 25 March, pupils and alumni flooded the stage of Saffron Hall for a historic evening of music, exploring the evolution of music through time and place, dating right back to the 1500s.
The evening began with a set of Tudor songs, serving as a nod to King Henry VIII. Fascinatingly, it was King Henry who signed the original agreement for Dame Bradbury's School to open.
Pupils from Years 1 and 2 participated in this year's concert, performing a charming yet modern version of Greensleeves, composed by King Henry VIII and arranged by Greg Beardsell. Our orchestra of 36 pupils from across mostly Years 5 and 6 then performed a set of Handel Minuets from 'The Royal Fireworks', followed by an exhilarating arrangement of 'Pirates of the Caribbean'.
Years 3 and 4 performed their devised classwork pieces, arranged by Miss Mullaly, relating to their spring term topics of Gamelan and West African Drumming. Our chamber ensembles (Brass Group, Wind Band and String Group) also performed, showing what can be achieved in smaller, more specialised instrumental groups. Following two stirring performances from the Junior Choir, singing 'Joshua Fought the Battle of Jericho' (with an electrifying piano accompaniment!) and 'Skyscrapers' by Bob Chilcott, our Year 6 Jazz Band concluded the first half of the concert with a fuelled rendition of 'Feeling Good', featuring complex instrumental jazz parts.
During the interval, one of our Year 6 bands, 'The Super Sixes', performed a well-known pop anthem. This was followed by our Guitar and Ukulele Group performing 'Bamboleo'. Year 6 paved the way into the second half of the concert, performing a famous classical piece written by Vivaldi and a humorous three-part harmony song all about Mozart and his beloved go-kart. Year 5, accompanied by our String Group, transported the audience of Saffron Hall to the magical land of Scotland, performing (and dancing!) two traditional ceilidh pieces.
Our Alumni Choir and Orchestra formed a very special part of the concert as we welcomed back former pupils (some of whom used to attend Dame Bradbury's 50 years ago!), staff and parents. There was a real sense of community in these alumni performances, showing us the very essence of what Dame Bradbury's is all about. Impressively, the alumni orchestra had only rehearsed together for two Saturdays prior to the concert before performing on stage at Saffron Hall. They also supported the Dame Bradbury's Orchestra, playing alongside our Year 4, 5 and 6 musicians. It was fantastic for our pupils to be able to look up to the alumni musicians and feel inspired by their proficient playing of Bizet's 'Farandole'. Perhaps our pupils were imagining themselves playing repertoire of this calibre one day. We were delighted to welcome back two of our past music scholars, Catherine B and Shaochen W, as soloists for the evening, again inspiring our young musicians at Dame Bradbury's and celebrating the girls' achievements.
Soon came the time for the Senior Choir to take to the stage and delight the audience with their performances of 'The Rhythm of Life' and 'The Lord bless you and keep you', a favourite by Rutter. This term, Senior Choir were announced as finalists in a renowned National Choral Festival based in London. The choir members are certainly excited to continue performing within and outside of school at both local and national level events. Both Junior Choir and Senior Choir then joined together for a combined choir performance of a Spanish-influenced song which translates to 'We Sing!' We were delighted to receive some lovely video messages from famous musicians, politicians and members of our Senior Leadership Team, which the entire school body watched together from a large screen onstage.
To conclude, the pupils and alumni joined together to sing a moving song by Bob Chilcott and a Sister Act Medley, featuring a wonderful live band. 'Raise Your Voice', one of our finale items, is something that Dame Bradbury's pupils do with great gusto!
Well done to all of our pupils, staff and alumni for raising the roof of Saffron Hall in what was a historic and memorable evening of music making and community spirit.
Happy 500th Birthday, Dame Bradbury's!
Laura Mullaly, Head of Music and Performing Arts